Reduce residual waste collections to reach EU recycling targets, says ESA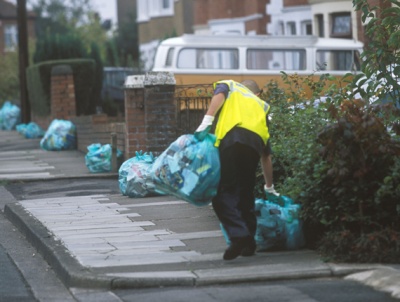 UK councils could meet EU recycling targets by reducing residual waste collections and increasing separate food waste services – but at a significant extra cost, according to a new report from the Environmental Services Association (ESA).
The report, titled 'An economic assessment and feasibility study of how the UK could meet the Circular Economy Package recycling targets', looks into what steps the UK might need to take to increase its recycling rate in line with the new EU targets, which were ratified by the European Council on 22 May and which the UK Government has said will apply to the UK post-Brexit.
The targets set in the CEP will obligate EU member states to reach a 55 per cent municipal recycling rate by 2025, 60 per cent by 2030 and 65 per cent by 2035. However, the UK's current rate of improvement in its recycling rate makes it unlikely that the UK will reach the current 50 per cent target by 2020, raising concerns over its ability to reach the new targets set by the CEP: the country's household recycling rate has stagnated at under 45 per cent over the past decade, with a change of only two per cent from 2010 to 2017. In addition, the UK's municipal recycling rate is currently at around 50 per cent, meaning an increase of a third is needed to reach the 2035 target.
According to the report, which was written by environmental consultancy firm Ricardo Energy and Environment, 'reaching the recycling targets required under the Circular Economy proposals will be challenging and costly both for local authorities and the commercial sector.'
Jacob Hayler, Executive Director of the ESA, commented: "The UK is struggling to meet the EU's existing targets for 50 per cent household recycling. This is largely due to a historic lack of funding and policy support in England – particularly on end-markets for recyclates – essential to driving recycling rates higher.

"Current policy delivers current outcomes. If we want higher recycling rates then we will need fresh interventions and additional funding. This report investigates precisely what additional costs and interventions would be required to meet the higher weight-based recycling targets contained in the forthcoming EU Circular Economy Package."
Local authority changes
Modelling three different scenarios, the report shows the actions that might be required to improve recycling rates, from a 'business as usual' model to a 'cost neutral' model, the latter requiring local authorities to move towards alternate or three-weekly residual waste collections. In this case, the report states that 55 per cent of authorities making this change would be able to make savings while doing so, while 45 per cent would need further investment. The addition of separate food waste collections alongside a reduced residual service would lead to the greatest increase in the recycling rate.
However, in order to reach the 2030 EU target of 60 per cent, additional materials would need to be recycled – including textiles, waste electrical and electronic equipment (WEEE) and absorbent hygiene products (AHPs) such as nappies and sanitary products, all growing waste streams – alongside the changes to local authority systems. This would bring an added cost for local authorities of £105 to £315 million per year, and around £160 million for the commercial sector. Moreover, the report states that this scenario is only feasible if government policy is introduced to strengthen the end markets for recycled materials, thereby increasing their value and making their collection more economically viable.
Hayler added: "In all scenarios there will be a need to manage waste that cannot be practically or economically recycled. This black bag waste is estimated to be as much as 9.5 million tonnes by 2030 – that's enough waste to fill Wembley stadium over nine times right up to the roof! Currently this waste is turned into energy which is a good outcome – but much is still landfilled."
Policy interventions
Potential methods of invigorating the end markets for recycled materials include reform of the producer responsibility system in the UK, which currently sees packaging producers pay only around 10 per cent of the costs of collection and recycling of their products, some of the lowest fees in Europe. While producers in France and Spain pay around €150 (£133) per tonne towards the cost of recycling their products as part of their respective schemes, UK producer contributions are closer to €20 (£18).
Lee Marshall, CEO of the Local Authority Recycling Advisory Committee (LARAC), said in October 2017 that the UK's producer responsibility system had "failed the Ronseal test", with the majority of the financial burden falling onto local authorities.
MPs in Parliament's cross-party Environmental Audit Committee (EAC) have repeatedly called for an overhaul of this system to one with a graduated compliance fee structure which would increase charges for producers on difficult-to-recycle packaging and reward design for recyclability. The ESA's report concurs, adding that designing packaging that is easier to recycle would further incentivise the use of reusable materials, creating a more stable secondary materials market.
The report also examines how a deposit return scheme (DRS) for drinks containers could help to increase recycling rates in the UK. The government has announced that, subject to consultation, a DRS for plastic, glass and metal containers will be introduced in England by 2020. A number of European countries have seen marked improvements in collection of plastic bottles since implementing a DRS, with Germany now operating at a recycling rate of over 97 per cent for single-use bottles and cans purchased with a 25 cent deposit.
However, LARAC has expressed concerns about implementing this approach in the UK, where there is already a fairly comprehensive kerbside collection system for drinks containers. The organisation's recent policy paper sets out its view that a DRS could divert valuable materials away from the kerbside, thus removing a significant revenue stream for local authorities.
New methods of measuring recycling
The CEP recycling targets are based on weight, as are current UK measurements of recycling, something criticised by the ESA report, which states: 'Our current waste-based system can distort behaviour, incentivising the collection of heavy, low-value materials such as garden waste and not prioritising the best environmental outcome for individual material streams.'
A second report, to follow this one, will consider in more detail how a move away from weight-based targets to an alternative form of measurement might help to better drive environmental performance and increase the value of recycled materials.
The full report, 'An economic assessment and feasibility study of how the UK could meet the Circular Economy Package recycling targets', can be read on the ESA website.