OPRL to move to Yes/No recycling advice
The On-Pack Recycling Label (OPRL) is set to launch a new binary labelling system this month, reflecting consumer desire for simpler recycling information.
The revised labelling system forms part of OPRL's new recycling rules, which have been developed by the not-for-profit's Steering Group, set up in July to revise its labelling rules to keep up with the latest developments in collection services and recycling infrastructure. The new rules will be published in their entirety at the end of January.
The new rules will see the majority of packaging carry one of two recycling labels: "Recycle" or "Don't Recycle". There will be a small number of exceptions for packaging that can be returned to bring-sites or forms part of an in-store take-back scheme.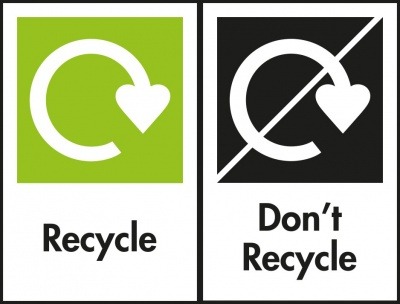 The move to a simpler labelling system follows the UK Government's recommendations included in its consultation on extended producer responsibility (EPR) for packaging and will align with its proposals for greater consistency in household recycling collections. The new system will also bring the OPRL scheme in line with ISO 14021 for self-declared environmental claims such as recyclability, matching OPRL's PREP UK, its packaging recyclability evaluation tool.
Consumer confusion over what can and cannot be recycled remains a key impediment to increasing UK recycling, which currently stands at around 45 per cent. OPRL states that around 84 per cent of people check packaging for recyclability, but many remain unclear over where to put their waste packaging – though where packaging bore the OPRL labels, a RECOUP study found that confusion over how to deal with that packaging was markedly reduced.
Such confusion can lead to unrecyclable materials entering the recycling stream, contaminating it and leading to batches of recyclable material being rejected, or entering the residual waste stream as consumers don't know what to do with it.
Clarity and quality
Commenting on the move, Jane Bevis, Chair of OPRL Ltd, said: "This move towards a binary label reflects both our wish to respond to consumer demands for clarity and the maturation of the UK's collections system towards greater consistency."
"Our research shows that while 84 per cent of citizens check on-pack labels for recyclability, it's a split-second glance for a Yes/No decision. Our new "Recycle" and "Don't Recycle" labels will ensure more packaging gets into the recycling stream and will improve quality at the same time. That's essential if we are to deliver on targets like the Plastics Pact commitment to almost double recycling of plastic packaging by 2025. As a key supporter of the Pact, with OPRL labelling widely used by many participating brands and retailers to activate recycling, we want our labels to drive a step change in behaviour."
"We're excited to be launching the new Rules and supporting tools for members once the Christmas rush is over. This has been a tremendous collaboration between industry experts and materials bodies and will be a great leap forward."
It is hoped that the simplicity of the new labelling system will support the aims and objectives of the Waste and Resource Action Programme's (WRAP) UK Plastics Pact, which aims to see 100 per cent of plastic packaging made reusable, recyclable or compostable and 70 per cent of plastic packaging effectively recycled by 2025.
Peter Maddox, Director of WRAP UK, added: "Clear labelling on packaging is crucial to encourage citizens to recycle more materials correctly, more often. So we wholeheartedly welcome this evolution of the successful OPRL system, which will give citizens a straightforward call to action over whether they can recycle an item or not. This is closely aligned with our ambition under The UK Plastics Pact (of which OPRL is a supporter) to meet a 70 per cent recycling rate for plastic packaging and is a key milestone in our roadmap to achieving this by 2025."
'We need consumers to do the right thing'
The new labelling system and labelling rules will now take account of the UK recycling infrastructure's ability to sort, process and find markets for packaging materials, as well as the availability of council collection services.
Labelling represents but one part of an effective and coherent recycling system, with product design geared towards recyclability, sufficient reprocessing infrastructure and strong markets for secondary materials from recycled packaging equally key links in the chain.
"What we need now is for the products and sorting and reprocessing infrastructure to evolve to ensure that all products can be sorted and made available to viable and sustainable end markets," said Lee Marshall, Chief Executive of LARAC (Local Authority Recycling Advisory Committee). "We need consumers to do the right thing but then we need to ensure that the markets exist for those materials."
Jeff Rhodes, Head of Environment and External Affairs at waste management company Biffa, added: "Simpler, binary 'recycle/do not recycle' labelling needs to be a key element of making recycling easier for the public, whilst also improving the quality of core materials collected in mainstream recycling collections by keeping non-recyclable or difficult to recycle materials out of them. This should also encourage more packaging design for recyclability, as packaging manufacturers and retailers will want as much of their packaging material as possible to be able to bear the new label, indicating it can be genuinely and widely recycled through mainstream, kerbside recycling collections. Measures like this have significant potential to be part of a range of solutions to drive more and better quality recycling and can hopefully pave the way for a national, mandatory system."