Charge for coffee cups will help tackle packaging waste, say MPs
Coffee shops should be made to charge 25 pence for the use of disposable cups say MPs in Parliament's Environmental Audit Committee (EAC).
The second full report from the EAC's inquiry into the effects of disposable drinks packaging, released today (5 January), calls for the government to introduce legislation similar to the plastic bag charge in order to bring the UK's use of disposable coffee cups under control.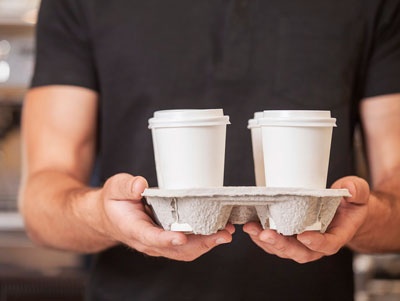 Over the course of the inquiry, the committee heard that the UK's total annual coffee cup waste (30,000 tonnes) is enough to fill the Royal Albert Hall and estimates suggest that by 2025 more than 3.75 billion disposable cups could be used per year, yet just 0.25 per cent of those currently used are recycled.
A target of all single-use cups to be recycled by 2023 is also recommended in the report, as well as an overhaul of the UK producer responsibility scheme, something discussed with regards to plastic bottles in the EAC's previous report.
25 pence 'latte levy'
While the Irish government has already proposed a charge on disposable coffee cups, and Bristol City Council recently voted to charge for cups in all its buildings, UK officials have so far been loathe to commit to a similar scheme, with Resources Minister Therese Coffey commenting in November that voluntary action was already being taken within the industry (for instance, Starbucks offer a 25 pence discount for using a disposable cup).
The EAC's recommendation that the government take legislative action on this matter flies in the face of Coffey's remarks, with the report labelling voluntary commitments by retailers as 'inconsistent' and lacking 'quantifiable targets and structure', while also noting that uptake for such schemes can be as low as one per cent.
Evidence from Eunomia Research and Consulting suggests that a 'latte levy' of 25 pence on single-use cups could reduce their use by up to 30 per cent, a figure supported by Cardiff University, which conducted a study into the efficacy of charges and other measures and revealed that consumers are far more responsive to a charge than a discount.
While a charge could encourage the uptake of reusable cups, leading to a reduction in the amount of waste produced, the report also acknowledges the need for improved recycling capabilities to deal with the remaining disposable cups; only three reprocessors nationwide are currently able to recycle disposable cups due to their mixed paper and plastic composition. Potential revenue from a levy, according to the report, is estimated at £428 million, which the committee advises should be invested in the UK's recycling infrastructure.
All disposable cups recycled by 2023
The government currently follows targets set by the EU Waste Directive for recycling paper and plastic, but none refers specifically to the mixed-material cups; moreover, there are no confirmed targets in place for once the UK leaves the European Union. Coffey did state that the government's upcoming Waste and Resources Strategy would contain a "specific ambition" relating to the recycling of coffee cups, something the EAC noted had been 'historically weak'.
A more focused target has thus been recommended: all single-use coffee cups placed in recycling bins to be recycled by 2023. If not achieved, the report states, an outright ban on coffee cups should be introduced.
Responding to this announcement, Dr Laura Foster of the Marine Conservation Society (MCS) said: "We totally agree with the committee that if 100 per cent recycling of coffee cups isn't reached by 2023, then there should be an outright ban on providing them – and that date should be set in stone. Only by treating this issue as one that is the responsibility of both industry and consumers will reuse become the norm in place of single-use and throw away." MCS's Beachwatch litter-surveying campaign has seen a reported 93 per cent increase in coffee cups found on UK beaches over the past five years.

However, the difficulties surrounding the recycling of coffee cups are manifold: not only are recycling capabilities limited but the majority of cups go straight into the general waste. A lack of so-called 'binfrastructure' in consumer hubs like train stations and shopping centres means that coffee cups, generally used on-the-go, do not easily find their way into dedicated recycling bins.

In acknowledgment of these complexities, the report states that revenue from the 25 pence charge should also go towards creating more recycling points for coffee cups (and all food packaging), as well as to increase public communications about recycling on-the-go.
Producers must pay more
Further funding to improve the UK's recycling infrastructure, the report continues, should come partly from increased producer compliance fees, something which was also recommended in the previous report from this inquiry, which focused on plastic bottles.
The inquiry heard from local authorities that UK producers currently contribute only 10 per cent of the cost of packaging disposal and recycling, much less than in many other European countries. EAC Chair Mary Creagh commented: "Taxpayers are footing the bill for disposing of the billions of coffee cups thrown away each year, whether or not they are coffee drinkers. It is only right that producers should bear more of the financial burden to help recycle their packaging, so my committee is calling for producer responsibility reform that rewards businesses that use sustainable packaging - and makes those that don't face higher charges."
Clarity and consistency of labelling
In October, the Department for Environment, Food and Rural Affairs (Defra) established the Voluntary and Economic Incentives working group to examine ways to reduce litter and improve packaging recycling. Coffey told the EAC that the group's upcoming focus will be on coffee cups and specifically how to "enhance consumer understanding of what can be recycled and how".
This was welcomed by the committee, which heard evidence during the inquiry that consumer confusion around coffee cups is contributing to poor recycling rates. Many retailers sell cups bearing the Mobius Loop and other recycling symbols, but while the cups can be deposited at some retailers and soon at bring banks coordinated by the Alliance for Beverage Cartons and the Environment (ACE UK), they cannot be placed in mixed or paper-specific recycling bins - the resultant contamination can lead to more waste going to landfill.
Creagh said: "Coffee shops have been pulling the wool over customers' eyes, telling us their cups can be recycled, when less than one per cent are." The report calls for clearer labelling by retailers, to make customers aware that cups are either 'not widely recycled' or 'recyclable in store only', as is the case for cups from Starbucks and Costa, chains which both provide collection bins in every outlet.
The full report, titled 'Disposable Packaging: Coffee Cups', can be read on the EAC's website.