Buyers' guide: Balers
Balers are a crucial piece of machinery for the preparation of materials for recycling, so purchasing the right baler should be a priority for any operator. The Resource buyers' guide provides a glimpse at some of the best providers on the market 
Pakawaste

The PowerKube XL is a horizontal baler available from Pakawaste, a UK supplier of waste management solutions. This baler is one of the most popular models in Pakawaste's extensive product range.
The Powerkube XL is a high-quality baler that features a 15kW motor paired with a 200mm cylinder bore. This high specification results in a powerful baling potential, with an active system pressure of 158 bar and a resultant baling force of 50.8 tonnes. Each bale produced is fully compacted and measures up to 1143mm x 1490mm x 762mm (LxWxH).
The Pakawaste Powerkube XL also has an intelligent design that incorporates an extended loading aperture, thus facilitating the baling of larger, bulkier items such as cardboard boxes. This functionality makes it a great choice for fabrication, manufacturing and industrial facilities, or any that produce high levels of compactable waste.
With a baled output of up to 2000kg per 64-second cycle, the Powerkube XL baler is the perfect piece of machinery to form part of an effective waste management scheme.
Contact: www.pakawaste.co.uk
T: 01772 796688
---
Harris Waste Management
Harris Waste Management is a long- established manufacturer of size-reduction equipment for the recycling industry.
 Based in the USA and with its own product support operation in the UK, the company's product range includes a wide selection of horizontal and two-ram balers suitable for most grades of recyclables, including paper, board, plastics and both non-ferrous and light ferrous metals.
Harris is one of the world leaders in the supply of two-ram balers, and manufactured the world's first machine of this type in 1968. The current range produces export- size bales at rates from two to 70 tonnes per hour or more, depending on the grade of material and other factors. The extensive range of wide- and narrow-box machines has been augmented recently by the Harris Spartan, which produces a 1,100-millimetre- high bale to further facilitate fast loading of transport.
Like all Harris two-ram balers, the Spartan features a compact footprint, large hopper opening, high compression forces and 
a bale door for easy grade changes. In addition, all Harris two-rams can be fitted with a choice of steel, plastic or combo strapping units, and can be used with bagging systems and wrappers.
Contact: www.harrisequip.com
T: 01684 254980
---
Bollegraaf HBC
The Bollegraaf HBC series has been developed with the lowest possible operating costs in mind. The pre-press flap design ensures that every stroke of the
ram results in the bale being filled to its maximum capacity. The knifeless design enables 100 per cent of the available energy to compress the material, without any loss of power, lowering wear and tear to the structural parts. Combined with almost 60 years of experience, the result is a reliable design with a long operational lifetime.
Along with the sophisticated reliable hydraulic system, the cycle time has been decreased to a minimum, resulting in a high capacity/power ratio, and the highest capacity available with a minimum power consumption.
The optional Adaptive Proportional Channel Pressure control, a self-learning feature that adapts the hydraulics to the material being baled, leads to bales with up to 20 per cent more density, and even the hardest materials can be baled.
Contact: www.bollegraaf.com
T: +31 (0)596 65 43 33
---
Middleton Engineering
Middleton Engineering, which celebrated 40 years in business in 2015, has built a reputation for quality of work, excellent service and design innovation, establishing itself as a major supplying force within the industry, both nationally and in Europe.
Middleton handles a wide range of projects from simple refurbishments and service contracts to large-scale turnkey installations. The machines include fully automatic twin-ram and channel balers for large output facilities and semi-automatic machines for smaller throughputs.
The entry level ME2R80 delivers an 80-tonne press force, while the range-topping ME2R150 has a press force of 150 tonnes and delivers an average throughput of over 35 tonnes per hour.
Middleton's process saves 50 per cent of strapping costs by using plastic ties opposed to traditional wire tying. Made entirely 
from recycled plastic, these eliminate the requirement for wire removal prior to incineration. Up-time when switching products can be increased with dual tying technology.
The company provides full diagnostics and support direct from its factory. Its SCAPA ME twin-rams have the capability to send a signal via SMS or email direct to operators, informing them of any abnormalities.
Contact: www.middletonengineering.co.uk
T: 01458 860264
---
Mardon Recycling Machinery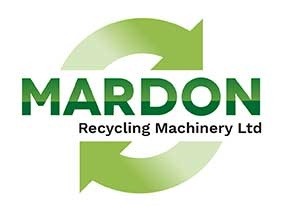 Equipment supplier Mardon Recycling Machinery consistently provides high quality, innovative waste handling solutions across the UK and Europe. Mardon works closely with its customers, understanding their business requirements and processes to provide the best possible solution to any recycling needs and environmental objectives. The company provides recycling solutions from a single piece of equipment to bespoke recycling machinery designed and installed to suit customer requirements.
The superior RamPack range consists
of a variety of recycling machinery for
 all types of material including, but not limited to, waste compactors, plastic balers, cardboard balers, mill-size balers, semi- and fully-automatic balers and all associated equipment. The RamPack range helps increase recycling capabilities, enhance environmental credentials and save money.
Mardon offers a total waste management package, managing the entire recycling process, from initial discussions through
to the ongoing management of each company's recycling requirements, giving customers complete peace of mind.
Contact: www.mardonbalers.co.uk
T: 01769572191 or 08005873028
This article was taken from Issue
97
---
Riverside Waste Machinery
Riverside Waste Machinery is a UK independent provider of waste balers, baler servicing, baler consumables and associated waste management expertise.
With decades of experience working in the industry, Riverside has amassed an in-depth understanding of the varied waste challenges that organisations face, regardless of their size and sector.
Blending modern waste machinery innovation with tried-and-tested experience, quality lies at the heart of everything Riverside does. Made up of specialists in the recycling field, its team of experts – including engineers, sales staff and administrative personnel – are all fully equipped to provide the best possible service to clients.
Based in North Yorkshire, this central location ensures the staff are ideally positioned to work with clients throughout the UK. For companies looking for a baler – to tackle waste cardboard, paper, plastic or other dry recyclables – advice on a waste problem, or to find out how to boost environmental capabilities and their bottom line, no challenge is too great!
Contact: www.wastemachinery.co.uk
T: 01423325038
E: [email protected]