What's happening with 'Persistent Organic Pollutants' (aka POPs)?
Local Authorities across the UK are struggling with the recent change in regulation around the disposal of items containing Persistent Organic Pollutants (POPs). With regulation set to expand – possibly to include textiles and carpets – Resource looks at the background of the restrictions and what might happen next.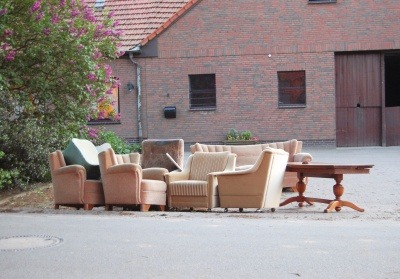 POPs are a group of toxic chemicals that are characterised by their persistence in the environment, bioaccumulation in living organisms, and long-range transport. They can remain in the environment for long periods, resist degradation, and travel long distances through air and water.
POPs include various substances, such as pesticides, industrial chemicals, unintentional by-products of industrial processes, and some types of brominated flame retardants such as the kind that cover soft furnishings. These chemicals have been widely used in agriculture, industry, and other applications due to their beneficial properties in protecting crops, products and materials.
Even though the majority of POPs are associated with pesticides and insecticides, the topic impacts the waste management industry as they are also present in chemical treatments for a variety of materials and products, and can be released during waste management processes such as incineration.
POPs pose significant risks to human health and the environment. They have been linked to adverse effects on human health, including cancer, reproductive disorders, immune system damage, and developmental disorders. They can also have harmful impacts on ecosystems.
Several waste streams are affected by POPs as their presence in a variety of materials can lead to contamination of recycled materials and also health risks for waste operatives who are exposed to them during reprocessing.
Waste Electrical and Electronic Equipment (WEEE) is a prime example of a POPs-containing waste stream. This includes discarded electronic devices like computers, mobile phones, and televisions. Certain POPs, such as polychlorinated biphenyls (PCBs), were historically used in electrical equipment and can be present in older devices due to their insulating and heat-dissipating characteristics. For example, PCBs were used in various heat transfer systems, such as cooling equipment in electrical machinery. They were also used for the insulation of electrical capacitors.
Soft furnishings, such as sofas, mattresses, and upholstery, are another interesting case as they do not intentionally contain POPs. However, they can be found in certain soft furnishings as a result of their persistence in the environment and their ability to accumulate and can enter soft furnishings through various routes. For example, some flame retardants that were historically used in soft furnishings contain chemicals that can degrade into POPs over time. Other soft furnishings can come into contact with POPs during manufacturing, transportation, or storage processes. Contaminated air, dust, or other materials can introduce POPs into the fabrics or materials used in soft furnishings.
The prevalence and serious implications of POPs mean it is important to ensure legislation is in place for waste disposal that protects against their dissemination.
Origins of POPs legislation
To address the global concern regarding POPs, the international community has taken steps to regulate and reduce their production, use, and release. The Stockholm Convention on Persistent Organic Pollutants, which entered into force in 2004, is a UN global treaty that aims to eliminate or restrict the production and release of POPs. It promotes their environmentally sound management and facilitates international cooperation in addressing the issue of POPs. The UK is a party to the Stockholm Convention.
Amongst others, the Convention includes a list of specific chemicals that are recognized as POPs and are therefore subject to control measures. These chemicals are known as the 'initial' or 'original' POPs and are often referred to as the 'dirty dozen':
Aldrin: A pesticide used for soil treatment to control pests, particularly termites and crop-damaging insects.
Chlordane: A pesticide formerly used for termite control, insect control in agriculture, and in home gardens.
DDT (Dichlorodiphenyltrichloroethane): A widely used insecticide in the past for agricultural and public health purposes, now banned in many countries.
Dieldrin: A pesticide used to control soil insects and pests, primarily in agricultural applications.
Endrin: An insecticide primarily used in agricultural applications to control pests, such as rodents.
Heptachlor: A pesticide used to control soil insects and pests, primarily in agriculture, including termite control.
Hexachlorobenzene (HCB): A fungicide once used to control fungal diseases in crops and as a chemical intermediate in industrial processes.
Mirex: A pesticide used for fire ant control and as a flame retardant in plastics and rubber.
PCBs: Industrial chemicals used in various applications, such as electrical equipment, hydraulic fluids, and heat transfer fluids.
Toxaphene: A pesticide used to control pests in agriculture, particularly for cotton crops.
Polychlorinated dibenzo-p-dioxins (PCDDs): Unintentional by-products of certain industrial processes, including unregulated waste incineration and chemical manufacturing.
Polychlorinated dibenzofurans (PCDFs): Unintentional by-products of certain industrial processes, including unregulated waste incineration and chemical manufacturing.
Current UK legislation post-Brexit
Within the UK, the Environmental Protection Act 1990 and the Waste (England and Wales) Regulations 2011 provide the legal framework for waste management activities including provisions for the identification, handling, and disposal of hazardous waste, such as the waste streams that may contain POPs.
Waste producers are required to classify and label hazardous waste appropriately, ensuring its safe handling, storage, and disposal. Controlled incineration is largely seen as the most effective method for the destruction of POPs-containing waste. The UK has strict regulations for waste incineration facilities to ensure that emissions of POPs and other harmful substances are minimised. The Waste Incineration (England and Wales) Regulations 2020 and equivalent regulations in Scotland and Northern Ireland set emission limit values and operational requirements for waste incineration plants.
On top of this, the Persistent Organic Pollutants Regulations 2007 and subsequent amendments regulate the production, use, import, and export of POPs, including their presence in waste materials.
The regulations prohibit or restrict the production, placing on the market, and use of specific POPs. It includes restrictions on the production and use of substances like PCBs in WEEE and the pesticide Lindane. These restrictions aim to eliminate or reduce the release of these chemicals into the environment.
The regulations also establish a system for maintaining and reporting information related to POPs. Businesses involved in the production, use, and import/export of POPs or POP-containing products are required to provide data on their activities to the relevant authorities. In England, the Environment Agency has the power to monitor and enforce compliance with the POPs Regulations. They can carry out inspections, issue enforcement notices, and take legal action against non-compliant entities.
Defra completed a consultation in April seeking feedback on proposed changes to POPs Regulation. The consultation – which began on 2 March 2023 and concluded on 27 April 2023 – contains proposals for provisional positions that could be implemented, including:
Amending and/or adding POPs waste concentration limits for several POPs;
The removal of specific exemptions for four POPs;
The addition of unintentional trace contaminant (UTC) exemption levels for at least two POPs
Amending and/or removal of UTC exemptions for PFOA; 
The addition of a new toxic equivalency factor (TEF) for dioxin-like PCBs;  
Amending maximum concentration limits (derogations for permanent waste storage) for several POPs.
The options and amendments presented are in line with recent additions or amendments to the UN's Stockholm Convention on POPs, which the UK is obligated to implement. Some options are also based on recent reviews of the POPs Regulation, scientific advancements, or the need for further evidence to inform future policy decisions.
Local Authorities' response to consultation
While Defra is yet to release a summary of responses based on the consultation, the strain on and reaction from the industry has been significant.
The Local Government Association (LGA) has expressed concern over the proposals in the consultation, including that 'council operations are not designed to cope with this level of complexity, and household waste and recycling facilities for example could need significant upgrades'.
The Environment Agency (EA) currently requires councils to treat all soft furnishings as containing POPs and separate them from other types of waste. The LGA highlights that if this comes to apply to all the waste streams mentioned in the consultation (textiles, carpets, paint, kitchen items and packaging), 'councils would end up managing several streams of waste identified as harmful to human health and the environment'.
The LGA is calling for Defra and the EA to involve it at an early stage and work with local government on 'a structured implementation plan based on a realistic view of costs and capacity'.
Soft furnishing regulations were updated last year. In a letter sent to councils in September, the EA gave local authorities four months to change their services when handling POPs-containing furniture waste. The move aims to prevent these items from going to landfill by collecting from the kerbside as bulky household items or having residents deliver them to household waste recycling centres (HWRCs).
In October 2022 Local Authority Recycling Advisory Committee (LARAC) shared its concerns over the EA's guidance on the management of soft furnishings containing POPs.
LARAC stated that no respondents to a member survey saw positive changes in the requirements. Over half (55 per cent) did not believe they could be compliant with the changes by the deadline.
Following the changed regulation, a Cumbria County Council spokesperson told Resource in January: "Given the very short notice of the new legislation, it did not leave enough time for the council to make necessary arrangements with our contractors so we have had no choice but to temporarily suspend the depositing of this waste material at our HWRC sites."
While many local authorities have now made arrangements, it can be assumed that an extended ban would cause higher levels of confusion for local authorities.
The future of POPs regulations
Given the high risk to human and environmental health, it is unlikely that POPs regulations will be relaxed any time soon. It is essential that their effects are managed by local authorities, commercial contractors and the general public.
The LGA highlighted that it is unclear how other organisations that collect, recycle and dispose of the broad range of household items listed in the consultation paper will be expected to behave. Commercial contractors and the community and voluntary sector may struggle to find suitable disposable routes, resulting in even further pressure on local authorities.
The industry will wait for Defra's consultation response for further clarity – at this stage, it is unknown when the response will be released.