Thousands lose power as another blaze takes over Glasgow scrapyard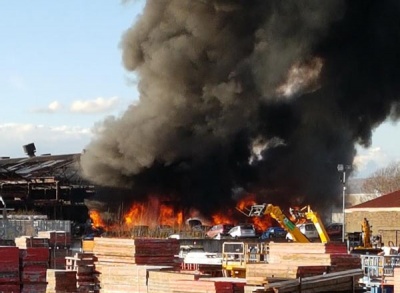 Photo: Ann McNeill‏ (@AnnRTID)
Thousands of homes were left without power yesterday after a fire containing tyres and scrap vehicles broke out at a scrapyard in Glasgow.
Scottish Fire and Rescue Service (SFRS) was called to Japanese Auto Parts in Helen Street, in the Govan district of the city, at 4.24pm on Sunday (5 March) afternoon and arrived to a 'well-developed fire' in a building and yard on the site.
An electrical substation, operated by Scottish Power, was involved in the fire and firefighters were forced to turn off power in the area as they dealt with the blaze. Power was restored to the 3,000 homes that had been without power at around 9.50pm.
At its height, around 50 firefighters were needed to tackle the blaze, which sent a huge column of smoke into the sky, and crews worked for several hours before bringing it under control in the early hours of Monday morning.
One engine remained on the site this morning to carry out dampening work on the fire.
Japanese Auto Parts is a SEPA (Scottish Environmental Protection Agency) authorised treatment facility for end of life vehicles, which are stored in a large yard at the back of the building that caught fire. SFRS Station Manager Gregg McKearney said: "Our crews have worked tirelessly to bring this fire under control. Firefighters remain at the scene as they carry out dampening down work and ensure the safety of the public."
Fourth large waste fire in five days
The fire in Glasgow was the fourth large waste site fire to take place within the last five days.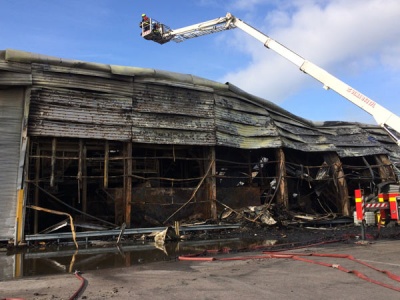 Photo: Devon and Somerset Fire & Rescue Service
30 firefighters and five crews were needed to
bring a 'severe' fire
that started in one of paper packaging supplier and recycler DS Smith's recycling depots in Willenhall near Wolverhampton on Wednesday (1 March) morning, causing operations to be suspended on site.
The same day, Exeter-based commercial waste firm Devon Contract Waste suffered a 'devastating' fire at its Envirohub site in Marsh Barton, where a blaze caused two-thirds of the roof of the building, which houses a materials recovery facility and the company's headquarters, to collapse. Over 100 firefighters had to work to prevent the fire from spreading to nearby businesses, including Exeter City Council's waste depot.
The following day (2 March), a large fire containing 2,000 tonnes of waste broke out at Siteserv in the Vale of Glamorgan, the third fire at the site in the last four years. The fire was still ongoing this morning (6 March), with crews monitoring the fire and advising local residents to keep doors and windows closed to protect them from the smoke.
Investigations into waste fire prevention
Waste fires are a problem that have been the focus of investigation by the Chief Fire Officers' Association (CFOA) for the past year, as the industry and firefighting services seek to find greater evidence as to how fires comprising of waste materials can best be prevented and fought.
According to the CFOA, there have been around 250 incidents of waste fires per year for the last decade, with an estimated cost to fire and rescue services of around £16 million a year.
More information is available in a comment piece written by Mark Andrews, Waste Fires Lead, at the Chief Fire Officers' Association, for Resource suggesting how the waste industry can reduce its fire risk.