SUEZ wins Somerset Waste Partnership contract
Somerset Waste Partnership (SWP) has announced SUEZ recycling and recovery UK as the preferred bidder for its new collections contract.

SWP, which is responsible for waste and recycling services on behalf of four district councils and the wider county council in Somerset, has been gearing up for the service change since 2017, when it agreed to end its previous contract with Keir 18 months early.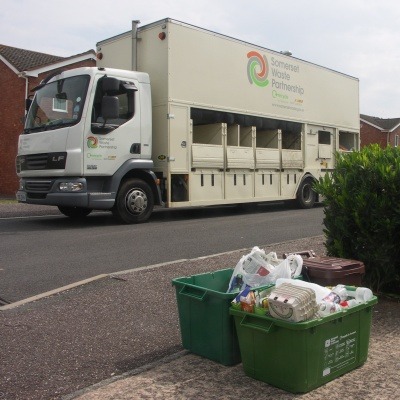 The Keir contract will come to an end on 27 March 2020, and the new contract will focus on implementing SWP's 'Recycle More' strategy, which will see residual waste collections
reduced to three-weekly
while extra materials (like plastic pots, tubs and trays) will be collected at the kerbside, along with pre-existing weekly dry recycling and food waste collections. It is hoped that this strategy will result in annual savings of around £1.7 million before rollout costs.
Coinciding with the start of the new contract, an energy-from-waste (EfW) plant is set to open in nearby Avonmouth in 2020, with capacity to process all waste currently landfilled in Somerset.
Once the £120-million contract is finalised, SUEZ will be responsible for one of the largest waste and recycling collection services in the UK, worth £570 million and covering around 256,000 households across Somerset. The initial contract will last for 10 years, after which point there will be an option to extend for a further 10 years.
SWP's Managing Director, Mickey Green, commented: "We are delighted to have found a partner that shares our vision for creating an exemplar service to make a step change in Somerset's recycling rates; and who matched our absolute commitment to environmental quality and customer service,while also delivering excellent value for money.
"We have run a robust procurement process and selected SUEZ as our preferred bidder to deliver these new improved services at a more affordable cost for the residents we serve.

"Our partnership with SUEZ will enable Somerset to continue its history of innovation, and help residents drive up the recycling rate with the enhanced kerbside sort system that ensures we collect high-quality materials and focus on waste as a resource not something which is thrown away."
Earlier this year, SWP renewed its waste management contract with Viridor until 2031 – the waste management company oversees Somerset's household waste recycling centres (HWRCs) and waste delivery points, as well as providing composting services, waste transportation and hazardous waste collection, storage and disposal.