Nestle and Jacobs Douwe Egberts launch coffee pod recycling scheme
Nestle and Jacobs Douwe Egberts have announced today (15 April) the launch of its coffee pod recycling scheme, Podback.
Local authorities Cheltenham Borough Council and South Derbyshire District Council have rolled out a kerbside collection for Podback, while Chichester District Council will begin trialling the scheme over the next two months.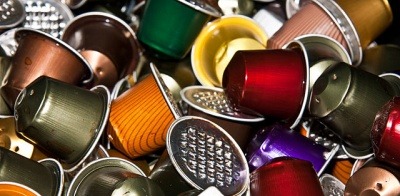 Andrés Nieto Porras (CC BY-SA 2.0)
Consumers from these councils will be able to recycle coffee pods from a number of brands, including, Nespresso, Nescafé Dolce Gusto, Tassimo, L'OR and Starbucks at Home.
Coffee pods can be recycled in two ways: consumers can either take used coffee pods to a drop-off point in a local store in recycling bags that can be ordered online; or sign up for kerbside collection with their local council – which will start operating from 10 May. 
Guillaume Chesneau, Board Director of Podback and Managing Director, Nespresso UK and Ireland: "For over 10 years, our mission has been to ensure that every single pod that customers enjoy will be recycled.
"Today marks a significant step towards this ambition and joining forces with our industry partners to deliver kerbside collection will make recycling pods much simpler and easier for customers.
"We hope local authorities and retailers up and down the UK will join us on this ambitious journey to make this a future reality."
Toby Bevans, Board Director of Podback, Marketing Director, Jacobs Douwe Egberts UK and Ireland, said: "Podback's aim is for every pod enjoyed to be easily recycled. We're doing this by providing simple and convenient routes for people to recycle their pods.
"To continue expanding this, we want even more brands, retailers and local authorities to get involved to ensure that it is easier for everyone."
Richard Howatson, Board Director of Podback, Business Unit Manager, Nescafé Dolce Gusto and Starbucks at Home, Nestlé UK and Ireland, said: "It's fantastic to have our first local authority partners on board.
:We're looking forward to expanding even further over the coming months, making pod coffee more sustainable and kerbside collections of pods a reality for more households across the country.
"In the meantime, we encourage all consumers to use the scheme and for other brands and retailers to join Podback."
With research showing up to 90 per cent of people want to be able to recycle their coffee pods, the industry leaders are aiming to expand the Podback scheme across the UK to cover more local councils.