Landfill restoration: A walk in the park?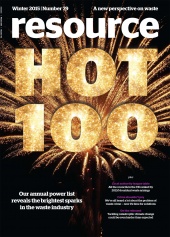 This article was taken from Issue
79
Where would you find wild rabbits mixing with jogging yummy mummies and blackberry foragers? The countryside? Park land? How about a landfill site? You'd be forgiven for thinking the latter ludicrous, but that is exactly what you'll find at Biffa's restored landfill site in the Wirral.
The former Bromborough Dock landfill on the Wirral Peninsula opened as the Port Sunlight River Park (PSRP) in August 2014, and has seen wildlife, and people, return to this surprisingly picturesque site. Rising 37 metres above ground, and with expansive views across the Mersey to the Liverpool skyline, the 35-hectare park is providing Wirral residents with much-needed green land.
"Everyone loves parks, everyone loves green spaces, but the problem is often how to find sustainable solutions to manage them for the long term", Gary Vyse, Communications & Marketing Officer at The Land Trust, tells me. "And that's where The Land Trust comes in."
To read the rest of this article and so much more
subscribe
to
Resource
magazine