Fife Council to trial monthly waste collections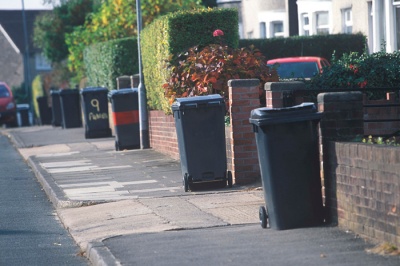 Fife Council has announced plans to trial monthly waste collections, making it the first council in Britain to do so.
Currently the council collects garden, food and residual waste fortnightly, while dry recycling collections (one box for cans and plastic and one box for paper and card) occur on a monthly basis. However, in a bid to increase recycling rates (and meet the Scottish Government's recycling targets, which specify that the country must meet 60 per cent recycling rates by 2020, rising to 70 per cent by 2025) and reduce disposal costs, the council has announced that it will be trialling two schemes to boost recycling rates and limit residual waste arising.
Trial details
A total of seven separate proposals were initially devised by the council for implementation, but two systems will chosen for implementation and will be trialled by 4,000 householders in two areas of Fife (yet to be decided) from September 2015.
Two thousand homes will receive:
monthly residual waste collections;
three-weekly recycling collections; and
fortnightly collection of food and garden waste between March and October, changing to a monthly collection during the winter months.
A further 2,000 homes will receive:
three-weekly residual waste collections;
three-weekly recycling collections; and
fortnightly collection of food and garden waste between March and October, changing to a monthly collection during the winter months.
In a report compiled by the Fife Council Executive Committee, it is estimated that the implementation of the two schemes could see 'annual revenue savings of over £350,000 in the short term, rising to over £900,000 after 2021'.
It is also estimated that council-wide implementation of either of the systems could raise the recycling rates to over 66 per cent (therefore meeting and exceeding the government's 2020 target of 60 per cent) and reduce the amount of waste landfilled from 38,000 tonnes a year to around 25,00 - 26,000 tonnes a year.
Chris Ewing, Chief Operations Officer of Resource Efficient Solutions LLP, an arms-length organisation established by Fife Council to take forward the delivery of zero waste strategy, was keen to reiterate that the schemes are only being piloted in a cross section of homes.
He said: "The trial won't start until September and we've yet to decide where in Fife but we've decided to find out more because it could improve recycling figures and save the council money."
Following a doorstep survey, over 66 per cent of Fife city respondents stated their plastic and cans recycling bins were full, or overfull, at the time of collection. As such, Ewing stated that the trial would increase the frequency of collections to "find out if houses that are provided with increased collections for cans and plastics are able to accommodate fewer collection of landfill waste".
He added: "During the trials, 2,000 homes will have their general rubbish picked up every three weeks. The other 2,000 will have landfill waste collected every four weeks. For houses that receive a four-weekly collection of landfill waste individual arrangements will be made for the collection of nappies and other similar products."
Find out more about the Fife Council proposals.
Banbridge trial resulted in 35 per cent drop in residual waste
This announcement by Fife makes it only the second UK council to trial monthly kerbside waste collections, after Banbridge Council in Northern Ireland introduced a similar scheme last year.
In August 2014, Banbridge District Council announced it was to limit 60 per cent of households to monthly residual waste collections in a trial scheme.
An evaluation of the trial in February 2015 highlighted that the trial resulted in the amount of rubbish placed in black bins falling by 35 per cent, peaking at 43 per cent over the Christmas holiday period.
The report also highlighted that a kerbside recycling rate of 64.5 per cent was achieved during the trial - almost twice the average rate across other Northern Ireland council areas.
Torfaen County Borough Council also announced last year that it was reviewing its waste strategy in a bid to try and reduce the amount of waste created to meet Welsh Government's targets. It had also proposed moving to monthly collections of waste, but after the vast majority (75 per cent) of responses to its consultation expressed a preference for keeping fortnightly collections and moving to a smaller bin, the council agreed to move to maintain the same frequency of collections and reduce residual waste bin capacity by one hundred litres (to 140 litres), even though that option provided the least amount of savings.
Find out more about the reasons for and against moving to monthly collections of residual waste.