Coca-Cola commits to renewable energy in UK operations
Coca-Cola European Partners (CCEP) has announced that it is pushing ahead with its sustainability drive in the UK, unveiling a new solar farm at its factory in Wakefield, West Yorkshire, and a commitment to sourcing 100 per cent of its electricity from renewable sources.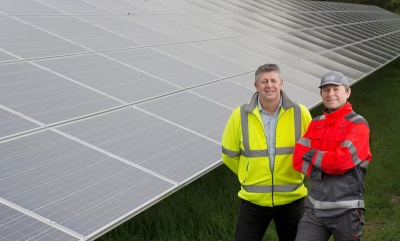 The solar farm, installed by Athos Solar, will power the manufacturer's Wakefield factory and help Coca-Cola to reduce the factory's operational carbon footprint. The drinks giant hopes that the move will provide a boost to the country's renewables industry after the UK recently moved back into the top ten countries in Ernst and Young's worldwide renewable energy country attractiveness index (RECAI).
Covering eight hectares of land owned by local farmer Stephen Butterfield 1.5 miles from the Wakefield site, the solar farm, which will be able to produce five megawatts of energy at full capacity, is connected to the factory by a series of underground cables, delivering 15 per cent of the site's electricity and reducing its operational carbon footprint by 8.6 per cent.
Together with the emissions saved by a £1 million combined heat and power system installed on the same site in 2014, it is hoped that the 3,800 tonnes of CO2 will be saved per year.
Furthermore, CCEP has begun using 100 per cent renewable electricity, provided by EDF and complying with Ofgem's Renewable Energy Guarantees of Origin (REGO) scheme and the emissions reporting guidelines laid out in the Global Greenhouse Protocol.
Commenting on the move last week (18 May), Nick Brown, Head of Sustainability at CCEP, said: "We are committed to minimising the impact of our operations, with a core goal to reduce the carbon footprint of the drink in the consumers' hand by a third in time for 2020. By guaranteeing that 100 per cent of the electricity we use comes from renewable sources we're taking a major step forward in achieving this.
"We've been collaborating with partners across Great Britain to build our renewable energy credentials and have enjoyed working together with a number of local groups and businesses in Wakefield to support this."
To get its sustainability efforts right over the years, CCEP has been working with the Carbon Trust. John Newton, Associate Director at the Carbon Trust, added: "Working with CCEP over the past decade, the company has continuously made impressive reductions in its environmental impact, at the same time as taking a strong leadership position on sustainability issues. This new move to purchase renewable electricity is yet another positive step forwards from the company, demonstrating that the business case for going low carbon is no barrier to commercial success."