Wales launches £6.5m fund to boost use of recycled materials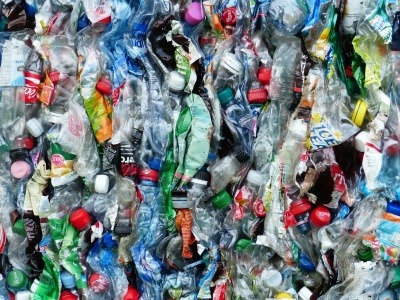 The Welsh Government has announced £6.5 million of funding to drive Wales towards a circular economy.
Hannah Blythyn AM, previously Environment Minister and now Deputy Minister for Housing and Local Government with responsibility for waste and recycling, launched the Circular Economy Fund on 29 April during a visit to Klӧckner Pentaplast, a plastic packaging manufacturer based in Newport.
Grants of a minimum £25,000 and maximum £750,000 are on offer to any businesses looking to increase their use of recycled materials in manufacturing, with money going towards investment in the infrastructure and equipment needed to increase the use of recycled materials. The fund will be administered by WRAP Cymru, a circular economy organisation that provides support on behalf of the Welsh Government.
It is hoped that this investment will stimulate a domestic market for secondary recycled materials – the more recycled content used in packaging and products made in Wales, the more demand there will be for recycled material rather than raw materials.
At the launch, Blythyn praised Klӧckner Pentaplast, describing the company as "an example of how recycled material can be used to create a successful product, while benefiting our environment and stimulating demand for recycled material."
Explaining the fund, she added: "[It] will help to cover some of the costs of investing in new equipment and infrastructure, increasing the use of recycled materials in Welsh manufacturing. We know this has the potential to bring significant cost savings as well as helping businesses to reduce their carbon footprint. Increased use of recycled material provides economic opportunities. It also helps create and protect jobs by making Welsh manufacturing companies more resource efficient and resilient in terms of the security of supply of raw materials."
This funding adds to the ongoing investment by the Welsh Government into the circular economy in Wales as the country works towards its ambitious recycling target of 70 per cent by 2025, as set out in its 'Towards Zero Waste' strategy.
Read more: Wales – leading the recycling world?
Much of this funding so far has gone to local authorities, with
£7.5 million approved in February
2018, followed by a further £5.4 million to be shared across eight reuse and recycling projects, including the development of a new
zero waste hub
– or 'Green Shed' as the model is called – for Conwy and Denbighshire County Councils.
With a municipal waste (household and non-household waste) recycling rate of 62.7 per cent, as reported in the latest Local Authority Municipal Waste Management Statistics, Wales was well ahead of its 58 per cent recycling target for 2016/17. The Isle of Anglesey has hit its 2025 target early, reporting that 72.2 per cent of municipal waste was sent for reuse, recycling or composting in 2017/18.
If the entire country is to reach this level by 2025, it will be crucial for Welsh businesses to make the same progress that many local authorities have already begun.  
"In Wales we recycle more than anywhere else in the UK and we are within touching distance of being the world's top recycling nation. I want us to go even further towards a truly circular economy," Blythyn said.
Manufacturers in Wales are encouraged to visit the WRAP Cymru website to learn more about the Circular Economy Fund.