Tesco ranked top supermarket for food waste prevention
Tesco has come out on top in a list of the UK's best and worst supermarkets at preventing food waste.
The 'Food Waste Scorecard' has been produced by Feedback, a UK charity campaigning for a better food system. It ranks the top 10 supermarkets in the UK by their actions to tackle the food waste problem and found that while Tesco is striding out ahead of the pack, Waitrose is the worst-performing chain – but none of them are adequately addressing how the standard supermarket business model inherently leads to waste.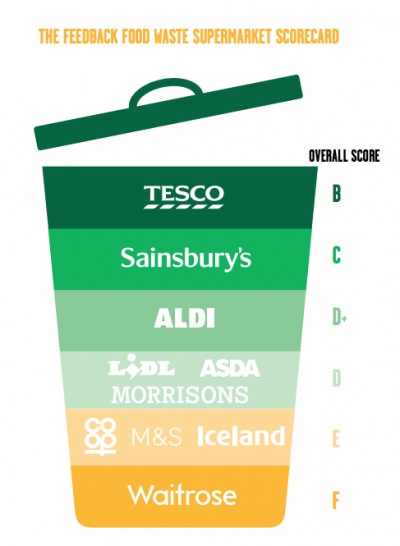 Image: Feedback
Around a third of all food produced globally is wasted; if wasted food were a country, the report states, it would be the third largest emitter of greenhouse gases after China and the US. Supermarkets have a key role to play in reducing food waste, given their influence throughout the food life cycle, from production to consumption, and there are a growing number of initiatives by retailers designed to tackle the problem, such as 'wonky veg' schemes selling 'imperfect' produce at reduced prices.
However, Feedback's report claims that these 'media-friendly' actions are tokenistic, enable supermarkets to look like they are taking action while avoiding more meaningful and large-scale change.
Read more: Wonky veg – a distraction from the truth?
Feedback assessed the actions of the top 10 UK supermarkets – Tesco, Sainsbury's, Aldi, Lidl, Asda, Morrisons, Co-op, M&S, Iceland and Waitrose – against the food use hierarchy, which sets out a hierarchy of options for managing food waste, from the most favourable action, reduction, to the least favourable, disposal in landfill.
Tesco is ranked at a 'B' overall – no retailer achieves an 'A' by Feedback's standards – while Waitrose gets a pitiful 'F', providing no public data on its waste and redistributing only small amounts of surplus food.
Tesco, in contrast, was the first supermarket to publish independently audited food waste data, and its figures are more comprehensive than any other retailer, indicating a commitment to transparency and to meeting its ambitious goal of zero in-store food waste – although the chain has revealed that in 2017/18 it sent nearly 20,000 tonnes of edible surplus food to anaerobic digestion.
Despite this, Tesco comes out on top in the redistribution of edible surplus food, donating 7,975 tonnes of food in 2017 according to its most recent data. Tesco, along with Sainsbury's, Asda and Co-op, works with redistribution charity FareShare, which provides food to charities and community groups.
Tesco was also the first supermarket to sign up to the UN Sustainable Development Goal of halving food waste by 2030. Only Aldi has also made this commitment, while most supermarkets have adopted the UK's national voluntary agreement, the Courtauld Commitment, which has the lesser goal of a 20 per cent reduction in food waste by 2025 and has been criticised by Feedback as lacking ambition.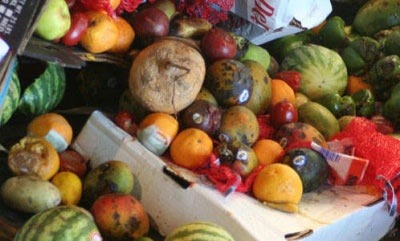 As well as dealing with in-store food waste, Feedback claims supermarkets should be facilitating food waste reduction at home – in part by altering their marketing strategies, which can cause consumers to buy more food than they need, for instance through multi-packs of fruits and vegetables which then go off at home before they can be eaten.
Read more: Plastic packaging not preventing food waste, says FoE
Sainsbury's recently dropped its much-publicised 'Waste Less, Save More' food waste reduction initiative, claiming its 'customers' priorities have changed'. The supermarket ran a 12-month trial in the town of Swadlincote aiming to halve food waste through education and technological fixes like the Olio app, but households only managed a nine per cent reduction.
The Feedback report suggests a number of actions supermarkets could take to address the core of the food waste problem, including:
Relaxing cosmetic specifications for all produce;
Marketing seasonal produce and guaranteeing orders for suppliers to reduce waste at the farm;
Improving and clarifying food labels, phasing out confusing 'best before' stickers and providing better information about storage methods;
Selling fruit and vegetables individually rather than pre-packed; and
Transforming food surplus into animal feed.
Feedback has also launched a petition calling on all supermarkets to publish detailed and consistent food waste data, to increase transparency across the sector and encourage retailers to stick to their goals.
The full report, 'The food waste scorecard: An assessment of supermarket action to address food waste', can be read on the Feedback website.