Scotland bans disposable coffee cups in government buildings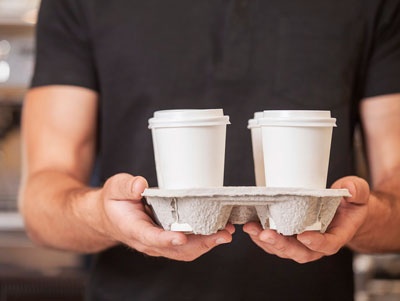 The Scottish Parliament has announced that it will be banning single-use coffee cups in its main buildings in order to cut down on single-use plastic waste.
Ministers claim that 450,000 cups could be diverted from landfill every year as a result of the move, which will see all hot drinks purchased in St Andrew's House, Saughton House, Victoria Quay, Atlantic Quay, Marine Lab and Buchanan House sold only in reusable mugs from 4 June.
The plastic-lined disposable items have come under attack from governments and businesses in recent months after it was revealed that only 0.25 per cent of the UK's yearly coffee cup waste is recycled. A range of different solutions are being tested, with some – like Holyrood – choosing to enact bans and others implementing financial incentives to encourage the uptake of reusable alternatives.
Independent coffee chain Boston Tea Party (BTP), which has 22 stores across the country, is enacting its own coffee cup ban from today (1 June), requiring all customers to bring in their own reusable cup or buy one in store. The company claims its bold move could result in losses of over £1 million, as sales of takeaway hot drinks represent 5.2 per cent of its total turnover.
The UK Houses of Parliament, however, have taken the latter approach, announcing in May plans to trial a 25-pence levy on hot drinks purchased in disposable cups in order to 'virtually eliminate' single-use plastics across the Parliamentary Estate. Coffee chain Starbucks is in the process of a similar three-month trial in 25 of its London stores.
Part of the problem with coffee cups is that – despite being recyclable in a number of processing plants in the UK – they are most often purchased and disposed of 'on the go' in locations like train stations, airports and shopping centres, where collection infrastructure is severely lacking. With this in mind, other companies have chosen to focus on improving capture and recycling rates: Costa, for instance, stated in April that it plans to encourage coffee cup recycling by subsidising waste collection companies to the tune of £70 per tonne of cups collected, thus increasing the incentive for and financial viability of such collections.
The Scottish Government's ban follows the announcement on 14 May of a new advisory panel created specifically to tackle plastic pollution: the Expert Panel on Environmental Charging and Other Measures will be guiding Scottish Ministers on actions to change consumer and producer behaviour around single-use plastics.
This year has seen the Scottish Government propose a range of other measures against the most polluting plastic products in circulation, for instance announcing plans to ban plastic cotton buds and drinking straws – the potential barriers to which could be removed with the introduction of a range of EU-wide single-use plastic bans proposed by the European Commission on Monday (28 May).
Zero Waste Scotland (ZWS), a government-funded organisation working towards a more sustainable and circular Scotland, also recently announced the launch of a new plastic-free shopping range in a Glasgow store, selling pulses, oil, cleaning products, milk and more in refillable bottles. Scottish Environment Secretary Roseanna Cunningham was at the opening of the store, and commented: "Ideas like this are at the heart of the Scottish Government's 'Making Things Last' strategy, which looks to develop our circular economy and protect our environment by keeping products in use as much as possible."
On the coffee cup ban, Cunningham stated: "By removing single-use coffee cups from our main buildings, we will prevent 450,000 cups from being thrown away every year. That's enough cups to cover the distance between Edinburgh and Dundee.
"We support the EU's vision to reduce single-use plastics as far as possible and ensure any single-use plastics are easily recyclable by 2030. We are currently considering what other single-use items can be reduced and removed from Scottish Government buildings later this year."