Redundancies following 'devastating' fire at waste plant
An Exeter-based recycling company that suffered a 'devastating fire' at its headquarters last month has been forced to make eight members of staff redundant following the incident.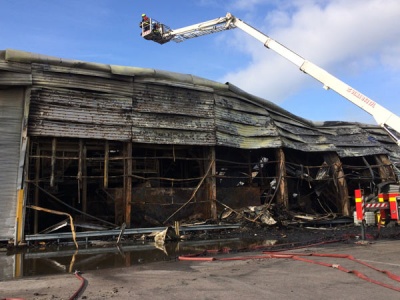 Photo: Devon and Somerset Fire & Rescue Service
Over 100 firefighters were needed to manage the blaze at Devon Contract Waste's Envirohub site, which broke out on 1 March. The fire continued for several days and fire crews were needed as much as three weeks later to put out flares in hot spots around the site.
Two-thirds of the building collapsed during the initial fire and the building has now been demolished ahead of a rebuild. The fire was one of a spate of large waste fires to take place in the space of a number of days in early March. According to the Chief Fire Officers Association, there have been around 250 incidents of waste fires per year for the last decade, with an estimated cost to fire and rescue services of around £16 million a year.
Although the company's fleet of vehicles was saved from the fire and Managing Director Simon Almond said that commercial waste collection services were not affected, the company has had to make several members of staff redundant as a result.  
Almond told local news site DevonLive: "Unfortunately due to the fire we had to make eight staff redundant but most have found full time jobs already. I would like to add how amazing the continued support has been from our staff and the business community as a whole.
"The demolition has been completed and all that remains is some waste that is being cleared over the next few days. The collection services resumed as normal on the morning of the fire with very little interruption for our clients."
Devon Contract Waste provides commercial waste management across Devon and Somerset, emptying more than 7,000 commercial bins per week. The plant, located at its Envirohub base in Marsh Barton, was capable of processing over 150,000 tonnes of waste annually. Last November, the company invested £326,000 in a new industrial baler for the Envirohub plant to double its capacity.
Representatives from the company met with Devon County Council on Monday 3 April to discuss plans to rebuild the plant.
According to the company, bin collections were running as usual the following day. In the mean time, its sister site, also based in Exeter will be running from the first week of June, and all waste will be processed at a new sorting plant outside London.
More information about Devon Contract Waste can be found on the company's website.