Recycling is 'in our own hands' for national recycle week
From Extinction Rebellion to Greta Thunberg's school strike, 2019 has seen a wave of environmental activism take centre stage in the public eye.
With this in mind, the 2019 Recycle Week is taking inspiration from this year's surge in campaigning, focusing the week of events around the theme: 'Recycling. It's in our own hands.'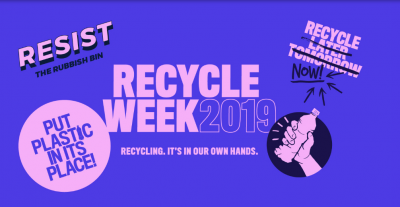 The week will run from 23-29 September, and is organised by Recycle Now, which is managed by the Waste and Resources Action Programme (WRAP).
New research from Recycle Now presented in its annual Recycling Tracker survey has revealed that 60 per cent of UK households are now recycling more than they were a year ago, with nearly a third of these people citing environmental concerns as the main driver for recycling more.
Throughout next week, Recycle Now will be joined by some of the UK's leading brands and organisations, including Coca Cola, Unilever, Danone and Highland Spring Group, in actively encouraging the public to further improve their recycling.
Unilever will be promoting its #GetPlasticWise campaign, which aims to develop innovative solutions to reducing plastic packaging, and Highland Spring Group will be sending its 'recycling heroes' around Perthshire to provide tips on what can and can't be recycled.
On Wednesday 25 September, the London Eye will be lit up green in support of Recycle Week.
Craig Stephens, Recycle Now campaign manager, said: "This truly looks like it's going to be the best Recycle Week yet, and we're thrilled to have support from a huge range of brands, retailers and businesses. More and more people are recycling, which keeps materials in use and out of the environment.
"If you're uncertain about how to recycle anything in your local area, our Recycling Locator can help – just pop in your postcode!
"It's in our own hands – together we can do this!"
Environment Minister Rebecca Pow, who has recently been handed the resources and waste portfolio, said: "We know people want to do their bit and recycle more – and our landmark Resources and Waste Strategy sets out how, together, we can move away from being a 'throw-away' society.
"By cutting our reliance on single-use plastics, ending confusion over household recycling, tackling the problem of packaging by making polluters pay, and slashing food waste, we will reuse and recycle more, helping to leave our environment in a better state than we inherited it.
"WRAP's Recycle Week is a great reminder of some of the simple steps we can all take to improve our own record and do our bit to reduce our footprint on our precious planet."
You can find out more information about Recycle Week on the Recycle Now website, while the Recycling Tracker is available on the WRAP website.