Recycled plastic boat to take school children on free waste fishing trips
London school children will be taking to the Thames for some hands-on experience with the problem of plastic waste, thanks to a new scheme by environmental behaviour change charity Hubbub.
Last month Hubbub launched the world's first boat made from recycled plastic, named 'Poly-Mer', which has been taking businesses on 'plastic fishing' trips to clear plastic debris from the water around London's Docklands and see the effects of single-use plastic first hand.
Today (5 December), Hubbub announced that with support from grantmaking organisation City Bridge Trust, it will be offering 55 free plastic fishing trips for London schools aboard 'Poly-Mer'.
The aim of the project is twofold: not only to improve London's waterways - which are cleared of 300 tonnes of litter every year, the charity claims - but also to reduce the amount of plastic being littered in the first place, by engaging children with their surroundings and educating them about the impact of plastic waste, particularly from single-use food and drinks packaging, on the environment.
Litter in the Thames has become an almost ubiquitous part of the river's life, with many Londoners accustomed to seeing plastic debris floating in the water or washed up on the shore. A survey by the river cleaning charity Thames21, conducted between November 2014 and December 2016, found that plastic drinks bottles account for 10 per cent of all litter in the Thames, while plastic food wrappers were the most common item found washed up on the river's foreshore.
Recent figures from the UN show that around eight million tonnes of plastic enters the world's oceans every year, and in 2016 Eunomia Research & Consulting suggested that more than 80 per cent of the world's marine plastic comes from land-based sources, entering the seas via rivers and beaches.
Collecting waste plastic before it makes its way into the marine environment is vital, as the extent of its impact there is devastating: the plastic ingested by vast numbers of sea creatures not only destroys marine ecosystems but can potentially find its way up the food chain and back to our dinner tables.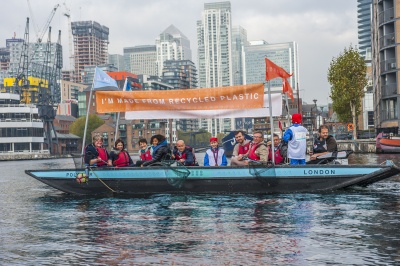 Hubbub also hopes that the innovative boat 'Poly-Mer', created from a mixture of plastic bottles and plastic agricultural waste, will encourage recycling by demonstrating the potential value in waste plastic for creating new products. The charity is looking to build a second vessel using the very plastic collected on 'Poly-Mer', creating a circular system it plans to expand to an entire flotilla.

Pilot trips with Canary Wharf College, which helped set up the project, have been a success, and employees from Barclays and PwC also took part in a spot of fishing; the latter described the experience as "a really new and thought-provoking activity [with] brilliant information on the link between the plastic fishing activity and the problem of ocean plastics."

The money raised from corporate plastic fishing trips will go towards funding further free trips for school children, as well as helping Hubbub to expand its fleet of recycled plastic boats, with hopes to eventually launch plastic fishing in cities across the UK.

More information about 'Poly-Mer' and the plastic fishing campaign can be found on Hubbub's website.