Plastic pollution causing health crisis in poorer countries, says report
Dumped and burned rubbish, especially plastic waste, is responsible for the death of one person every 30 seconds in developing countries, according to a new report.
Published yesterday (14 May), the report examines the impact of plastic pollution on poorer communities around the world and calls for producers of plastic waste to take action to reduce their single-use waste.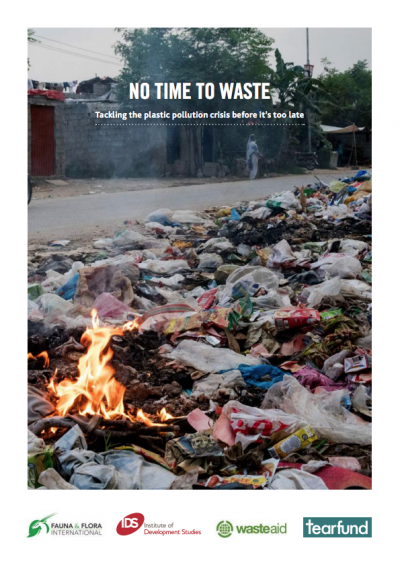 Titled 'No time to waste: Tackling the plastic pollution crisis before it's too late', the report comes from a group of charities working across the intersection of international aid and environmental conservation: disaster relief charity Tearfund, wildlife conservation charity Fauna and Flora International (FFI) and waste management charity WasteAid. Support also came from the Institute of Development Studies.
The extent of the problems caused by the world's addiction to plastic are becoming ever more apparent. Put under a spotlight in Sir David Attenborough's BBC TV programme, Blue Planet II, the effects of plastic waste in the oceans are now well known, with animals dying after consuming plastic waste and microplastics found in the stomachs of creatures in the deepest parts of the Pacific Ocean – as well as in the fish that we eat.
But more than 80 per cent of the plastic in the world's oceans comes from land-based sources. On land, it causes just as many problems as in the seas – problems that are made more acute in a country where waste management is inadequate. While litter in the UK and other wealthy countries can be a nuisance, plastic waste is still often a case of 'out of sight, out of mind'. Elsewhere, waste causes serious problems to human health and the environment.
The report highlights some arresting facts, stating that every 30 seconds in the UK, enough plastic is thrown away to fill two double-decker buses – while in developing countries, 30 double-decker busloads of plastic waste are burned or dumped. It notes that between 400,000 and one million people every year are dying from illnesses and diseases caused by living near plastic pollution – that's up to one person every 30 seconds.
Image: Eddy Mbuyi/Oxfam
Mismanaged waste spreads disease in a number of ways, including through floods caused by blocked waterways and from pollutants that are released when waste is burned, which is often more dangerous than other forms of air pollution due to the proximity of waste burning sites to human habitation.
Furthermore, many people rely on landfills to make a living; informal waste pickers can play an important role in helping to recycle waste, but risk their lives collecting recyclables from dangerous waste piles with a huge risk of landslides – 17 people were killed at a rubbish dump in Mozambique last year, while more than 115 died in Ethiopia after a landslide at a landfill.
Wealthy countries creating more problems
The report also takes issue with how wealthy countries with established waste management systems, including the UK, continue to export much of their waste to other countries for processing. In January 2018, China – previously a key importer of waste for recycling – introduced a ban on a range of waste types, including post-consumer plastics, citing concerns about poor quality. As a result, exporters have turned to other markets, such as Thailand, Vietnam and Malaysia. In the UK, waste is exported through the Packaging Export Recovery Note (PERN) system, meaning exporters have to procure a PERN to prove they have sent waste for recycling. However, a PERN provides no evidence that waste is actually being recycled overseas.
A recent Greenpeace study focused specifically on communities in Southeast Asia that have been flooded with imports of plastic waste since China's ban. Like Tearfund's report, Greenpeace concluded that these communities could not cope with the influx of plastic waste from abroad – and accused wealthy countries of exporting 'not just their plastic waste, but the pollution that went with getting rid of it.'
Attenborough: We ignore plastic pollution 'at our peril'
Sir David Attenborough, who is Vice President of Flora & Fauna International, wrote in the foreword to the report that in low-income countries, 'the ability to manage waste is inevitably overwhelmed by the sheer quantity of plastic being used. In turn, this is causing serious illness and even death for countless people and wild species...
'If there is one thing humans are adept at, it is finding clever solutions to the conundrums we face. It is high time we turn our attention fully to one of the most pressing problems of today – averting the plastic pollution crisis – not only for the health of our planet, but for the wellbeing of people around the world.'
What are the solutions?
The authors of the report recommend that multinational corporations responsible for plastic waste should:
Report on the number of units of single-use plastic products they use and sell in each country by 2020;
Reduce the above number by half in each country by 2025 and replace them with reusable and refillable options;
Recycle one single-use plastic item for every one sold in low- and middle-income countries by 2022 – helping to develop adequate systems for recycling in areas that lack them;
Work in partnership with waste pickers to create safe jobs; and
Reimagine the way their products are delivered through new business models that won't harm the planet.
Four companies in particular are singled out: Coca-Cola, Nestlé, PepsiCo and Unilever. Dr Ruth Valerio, Global Advocacy & Influencing Director at Tearfund, said: "They sell billions of products in single-use plastic packaging in poorer countries where waste isn't collected, in the full knowledge that people will have no choice but to burn it, discard it in waterways or live among it."
These companies have made pledges to reduce their plastic waste, with all signing up to the New Plastics Economy Global Commitment, a voluntary agreement led by circular economy organisation the Ellen MacArthur Foundation. This sees signatories agree to eliminate 'problematic or unnecessary plastic packaging' amd make 100 per of packaging reusable or recyclable by 2025.
However, the Tearfund report is keen that companies accurately declare how much plastic packaging they are selling by country, in order to see the scale of the problem and properly assess the merit of pledges and changes that are already being made.
Zoë Lenkiewicz, Head of Programmes and Engagement at WasteAid, added: "Large companies place vast amounts of single-use plastic into communities that don't have waste management, with significant and growing planetary health impacts. As this report shows, we cannot recycle our way out of plastic pollution – we need systemic change."
You can read the full report, 'No time to waste: Tackling the plastic pollution crisis before it's too late' on the WasteAid website.