Planning flexibility needed to develop circular economy, says ESA
The UK's planning authorities must change their traditional perceptions of the waste industry in order to fully realise the strategic objectives for transitioning to a circular economy, according to a new report from the Environmental Services Association (ESA).
The report, 'Planning for a Circular Economy', published yesterday (11 April), calls for UK planning authorities to increase flexibility when it comes to waste development and adapt to new ways of thinking, enabling successful transition to a circular economy.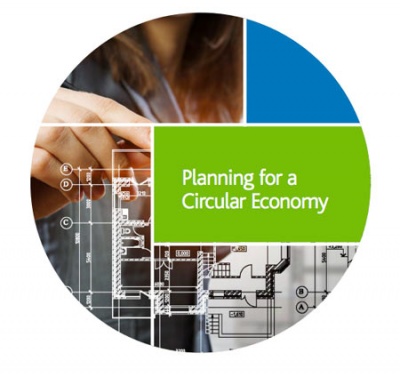 The report addresses the challenges members of the waste industry face in meeting growth demands and gives recommendations to move towards greater resource efficiency, highlighting the 'key role' the planning industry has to play in making the circular economy a reality.
It notes that the planning system for new waste treatment facilities presents a 'major element of project risk', referencing an earlier 2011 ESA report which recorded many instances of planning applications halted by lengthy delays for consent.
The ESA argues that the planning system is 'highly politicised', but says complete overhaul is not necessary moving forward. Instead it is the way rules are interpreted and applied rigidly, with little room for flexibility, that causes the main force of conflict. The report points to a 'strict control culture' that frustrates industry efforts and causes development to 'lag behind', as waste plans do not reflect the changing landscape of the waste industry.
The report suggests that a circular economy could help to generate 50,000 jobs and attract £10 billion investment in new waste management infrastructure, boosting the GDP by £3 billion. Defra, meanwhile, has estimated that UK businesses could benefit up to £23 billion per year by introducing 'quick win' resource efficiency measures.
A report from commercial law firm EMW carried out earlier this year that planning applications for 'environmentally-friendly' waste management sites have dropped by 20 per cent in the past year as local authorities feel the squeeze from continuing budget cuts.
Planning risk
An example given of the need for more responsive planning is the export of refuse-derived fuel (RDF), which the report estimates is costing the UK £280 million annually. The report suggests that increasing domestic waste treatment capacity in the UK would benefit the economy further than if materials continue to be recovered overseas.
Other challenges detailed in the report include: imposed limits on the haulage of waste (catchments) which the report calls 'anti-competitive' and difficult to enforce; restrictions on development in green belt areas; land being rezoned to accommodate housing demand; constraints preventing growth of energy from waste facilities; and the halting of planning for continued landfill provision.
The report makes recommendations to planning authorities to tackle these barriers to growth. Noting that flexibility is the key to successful transition, the report gives specific suggestions, including creating a more integrated approach to waste and energy policy, better communication between planning authorities and developers, eliminating catchment boundaries on waste facilities, more sites allocated for waste development and continued provision for landfill.
ESA's Policy Advisor, Stephen Freeland said: "Many local authorities need to let go of the strict control culture that has prevailed in one form or another since the 'landfill era' and instead adopt a more responsive approach to planning for waste management which better recognises the variable and dynamic nature of the space in which our industry now operates. Our industry increasingly resembles that of any other logistics business with materials moved around as markets dictate.
"Few other sectors face the same planning and political obsession about the origin of material or commodities, and where these should be transported to. To hamstring the resource and waste management industry in such a way will likely hamper investment and progress towards the objectives of the circular economy". 
The full 'Planning for a Circular Economy' report can be read on the ESA's website.