Obituary: Iain Buss 1965-2020
Steve Thorne pays tribute to kerbside recycling pioneer Iain Buss, who died last month at the age of 55
Iain Buss – 20 February 1965 to 23 March 2020
Iain Buss, Recycling Operations Manager at Bath and North East Somerset Council, sadly passed away on Monday 23 March due to the Covid-19 virus, after a short stay in the Royal United Hospital, Bath.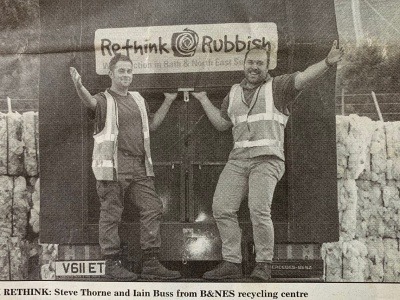 Iain was a passionate member of the recycling industry since 1995 when he started his career at the Avon Friends of the Earth partnership with Bath City Council, developing recycling services in the city of Bath.
During the 1990s, Iain was key in the development of the kerbside collection service we see today, with the introduction of one of the first kerbside sort collections to add plastic bottles.
During the early 2000s, Iain took on a new challenge with adding new commercial collections to the recycling service, merging with Resourcesavers commercial collections, creating RRS Recycling.
In 2003, Iain took a break from the recycling industry for a few years and then returned to the industry in 2006 to work as a supervisor, looking after the day-to-day running of collection crews for ECT Recycling (a community sector organisation), based at the Somerset Waste Partnership depot in Evercreech.
In 2008, May Gurney took on the ECT Recycling operations and Iain moved to North Somerset in the Weston-super-Mare depot as Assistant Manager for the waste and recycling contract.
His heart was always with his old service at Bath and North East Somerset Council where his career began, so after about a year Iain took up the post of Recycling Supervisor at the Bath and North East Somerset recycling depot in Keynsham, working for Kier.
In 2017, Bath and North East Somerset Council took the recycling service in-house and harmonised the waste and recycling services. Iain was instrumental in the implementation of the new service for the local authority at this time including total round reorganisation and introduction of a fleet of new vehicles.
I am honoured and privileged to have worked with Iain through the 1990s in the community sector and on my return to the Bath and North East Somerset Council in 2017. Iain was such a passionate advocate of recycling in the area and will be sadly missed by all of his colleagues. I am also proud to call him a good friend outside of work, playing rugby with him for many years and being part of his life.