London's Square Mile targeted in coffee cup recycling scheme
This April, coffee cup recycling stations will be popping up all over London's Square Mile, the UK's most heavily concentrated area of office workers, as part of a scheme that hopes to recycle five million cups from the area by the end of 2017.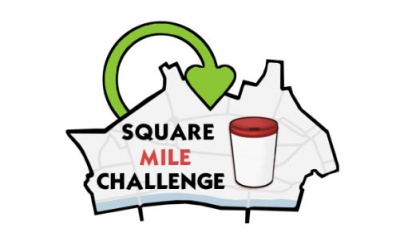 At least 2.5 billion coffee cups are thrown away in the UK every year – almost seven million a day – but only around six million of these are recycled. This is because the takeaway paper cups used by most coffee shops are coated in waterproofing plastic, which is moulded to the paper before assembly, meaning it can't be separated in traditional paper recycling streams.
Home to around 18,000 businesses employing over 450,000 people, the City of London – the 'Square Mile' right in the middle of the capital – has been chosen by environmental campaign charity Hubbub as the place to launch a partnership aiming to increase the separate collection of the cups so that they can be recycled at specialist Simply Cups, the UK's only current facility that can process the material.
The scheme has already been joined by the City of London, Network Rail and employers in the area including insurance company Lloyd's and law firm Eversheds, and is being supported by coffee stores Costa, Pret a Manger and Starbucks.
Streets, stations, shops and offices
Hubbub has been running a pilot project for on-street bins specifically for coffee cups on Oxford Road in Manchester, one of the city's busiest shopping thoroughfares. Now, through the new programme, it is targeting officer workers who routinely grab a cup on the way to and from work.
From April, facilities will be installed on the streets and in stations in the area as well as in coffee shops and on the premises of participating businesses, with Wendy Mead, Chairman of the City of London Corporation's Environment Committee, predicting that the scheme could recycled up to half a million cups in the first month.
The cups will be collected and taken to Simply Cups, where they will be processed in one of two ways, either: recycled whole, resulting in a 'mouldable plastic material with a composition of 40 per cent coffee cups and 60 per cent recycled plastic', which can be used to create plastic products, from pens to picnic benches; or separating the 'plastic and paper materials which make up a coffee cup and using the recovered fibres to make cores and tubes for products such as gravy granules'. New products, ranging 'from pencils to park benches', will be donated to local community projects and schools and used to reward those contributing the most to the recycling effort during the challenge. 
Photo: Wikipedia Commons
Peter Goodwin, Director of Simply Cups, said: "Large numbers of coffee cups are binned in offices as people arrive at work or pop out for coffees throughout the day. We'd like to see responsible disposal of these become as commonplace as paper recycling schemes in offices, and we hope that seeing the products that can be produced from their recycled cups will help motivate city workers to support the recycling effort." 
Five million cups
To incentivise businesses to sign up, the scheme is offering the first 30 businesses with over 500 employees that sign up a year's free membership to collection services provided by Simply Cups, with all other businesses involved receiving discounted rates for collections. 
Gavin Ellis, Co-Founder of Hubbub, said: "This is a big step up from the pilot scheme we have been running in Manchester, which has seen 20,000 cups recycled from one street over three months.  
"With the collaboration of so many key organisations, we believe this will be a huge step forward in tackling a challenging environmental issue, and we aim to build on from April to recycle five million cups from the Square Mile by the end of 2017.  
"We hope that by making a success of a scheme of this scale, we will encourage other parts of the UK to follow suit and would hope to reach a point where recycling levels for coffee cups are on a par with those for drinks cans and bottles." 
'Real change comes from individuals'
Commenting on the firm's decision to sign up to the scheme, Shirine Khoury-Haq, Chief Operating Officer at Lloyd's, said: "Real change comes from what we do as individuals, and the Square Mile Challenge is all about this. 
"Most of us grab a cup of coffee or tea at least once a day, and in the same way that disposing of a plastic bottle or can responsibly is becoming the norm, we can achieve the same thing with coffee cups. Given our origins in the Lloyd's coffee shop, it is appropriate that our employees lead the way on this initiative." 
More information about the Square Mile Challenge can be found on the scheme's website.