Hubbub launches first recycled boat to fish plastic from London's waterways
The innovative waste and environmental charity Hubbub are once again entering uncharted waters by launching the world's first boat made from recycled plastic today (2 November) as part of a campaign to change people's attitudes towards plastic littering while clearing up London's polluted waterways.
Built by Mark Edwards MBE, the brains and brawn behind the Queen's barge, 'Gloriana', and supported by Sky's Ocean Rescue campaign, Hubbub's new 12-seater punter, 'Poly-Mer', is made from Plaswood, a composite material made of 100 per cent recycled plastic produced by Scottish plastics recycler BPI Recycled Products.
Once out on the water, 'Poly-Mer' will embark on 'plastic fishing' trips in order to clear plastic litter from the docks around the capital's Canary Wharf, from which new vessels can be constructed, with the hope of creating a flotilla of plastic litter-busting boats to be deployed across the UK.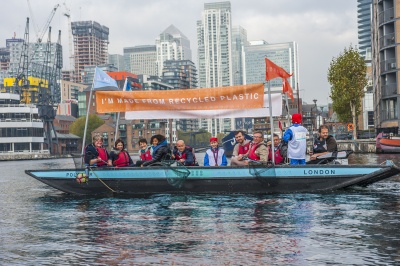 Resources Minister Therese Coffey MP joined school children from nearby Canary Wharf College (CWC) for the boat's maiden voyage from the Docklands Sailing and Watersports Centre today. Pupils from CWC had previously helped collect plastic litter from the docks over a weekend organised by CWC parent Christine Armstrong after seeing the shocking levels of pollution in the body of water around the Isle of Dogs, where CWC is based.
With some eight million tonnes of plastic entering the marine environment every year, the issue of marine plastic has gained in prominence in recent times, while initiatives to tackle this form of pollution have begun to build momentum.
This latest profile-raising initiative from Hubbub follows on from its 'For Fish's Sake' (#FFSLDN) campaign, launched back in May, which targeted London's 'tidy litterers'; those who carefully place litter on walls or by overflowing bins, which often leads to that litter being blown into the capital's waterways before finding its way out to sea.
According to Hubbub, 300 tonnes of rubbish are cleared from the Thames each year, of which a large proportion is plastic food and drinks packaging, which poses a significant threat to marine wildlife - recent analysis shows that 70 per cent of fish in the Thames are found to have plastic in their gut.
An 'excellent and creative' solution
Commenting on the launch, Trewin Restorick, Chief Executive and Co-Founder of Hubbub, said: "The problem of plastic pollution of the oceans and the terrible impact this can have on wildlife is now widely understood. What people perhaps don't realise is that 80 per cent of ocean plastic comes from land and travels from our hand to our storm drain, river, and seas. We built the 'Poly-Mer' to turn part of the problem into a solution and hope it will raise awareness that everyone can play their part to tackle plastic litter closer to home before it travels out to the ocean."
Prior to embarking on the vessel's maiden voyage, the Therese Coffey said: "This is an excellent and creative solution that demonstrates the damaging effect littering and plastics can have on our environment and wildlife.
"We are already taking significant steps to tackle this important issue - by planning to introduce one of the world's toughest bans on plastic microbeads and taking nine billion plastics bags out of circulation with our 5p carrier bag charge."
Sarah Counter, Executive Principal of Canary Wharf College, added: "When our pupils learn to sail on Millwall Dock they are shocked by the huge amount of plastic they see floating in the water. In spring they see birds laying their eggs in nests made of plastic.
"We are thrilled that more of them now will be able to go out together on this brilliant boat made from recycled plastic. Armed with fishing nets and waterproofs the children - with a little adult help - really enjoy seeing the difference they can make to the dock in just an hour."
'Poly-Mer' will continue to be used by pupils at CWC and will also be accessible to members of the public and businesses interested in getting involved in 'plastic fishing' trips.
You can learn more about Hubbub's recycled vessel on the organisation's website.