Hubbub announces winners of funding to boost UK paper cup recycling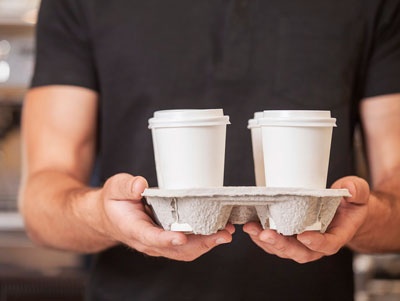 Behaviour change charity Hubbub has announced the first winners of
The Cup Fund
today (11 September), the UK's largest fund to boost the recycling of disposable paper cups.
The fund, financed by the proceeds from coffee chain Starbucks' five pence charge on disposable cups, will award grants of between £50,000 and £100,000 to 12 programmes to help them develop long-term infrastructure in order to boost coffee cup recycling by an estimated 35 million cups per year.
Single-use coffee cup waste represents a sizable waste problem for the UK. Last year it was estimated that 30,000 tonnes of coffee cups were thrown out last year – UK consumers use 2.5 billion cups a year – with only 0.25 per cent of those cups making it to recycling.
Despite the fact the materials that make up disposable coffee cups are technically recyclable, the way they are put together, along with liquid contamination, means they are notoriously difficult to recycle. The plastic lining used to stop hot drinks from leaking means coffee cups need to be collected separately from other paper goods and taken to specific cup recycling points to dismantle the layers.
As coffee cups are often used on the go, the lack of accessible recycling points in busy places such as train stations – let alone dedicated coffee cup recycling points – means many end up in landfill or being incinerated.
Hubbub hopes that the funding will have a significant impact on the recycling of disposable cups, with aims to introduce cup recycling facilities in more than 70 locations across the UK as part of the schemes with the support of some 36 organisations. These schemes are expected to divert a predicted 420 tonnes of waste to recycling each year.
Despite low levels of cup recycling, the ability to recycle paper cups has increased over the last two years and it is estimated that there is now enough capacity in the UK to recycle all paper cups used – packaging company DS Smith announced in 2018 that it could recycle all of the UK's coffee cup waste at its 800,000-tonne Kemsley recovered paper mill in Kent – with improved collection the principal obstacle, which The Cup Fund was established to overcome.
All cups collected by The Cup Fund project winners will be recycled into new products, including paper bags and greetings cards. Manufactured locally to reduce travel, some of those products will go back into the locations where the cups were collected to create a closed loop. However, it is not expected that any of these cups will be recycled back into coffee cups.
Transforming the industry
Following a three-month application and selection process, The Cup Fund winners were chosen by an independent panel consisting of experts in recycling, infrastructure, behaviour change and communications. The judges chose ambitious, large-scale projects from organisations seeking support to improve how they collect and recycle paper cups.
The winners are:
Five programmes across London to boost cup recycling in Brixton, Camden and on the Southbank, offices and public spaces across the Grosvenor estate and three London universities.
City-wide recycling schemes in Bristol, York, Oxford and Northampton.
Pioneering projects to trial new approaches to cup recycling in a retail park in Nottinghamshire and service stations in Gloucestershire and Cumbria.
A nationwide cup takeback scheme run by packaging specialist DS Smith in partnership with Associated Vending Machines to collect and recycle paper cups used in vending machines. The scheme, called Coffee Cup Drop Box, will see a network of boxes, which each hold up to 700 cups, placed around the UK with the contents sent to DS Smith's Kemsley paper mill for recycling.
As well as financial funding, each project will receive ongoing guidance and advice from Hubbub to enable them to best spend the funds to deliver the greatest long-term impact.
Placing an emphasis on public education and clarity regarding coffee cup recycling, Hubbub's website offers free information for businesses and five tips for coffee cup recycling, based on lessons learned by improving recycling facilities in Leeds and Manchester.
Commenting on the funding award, Gavin Ellis, Director and Co-Founder of Hubbub, said: "While reusable cups are the most environmentally friendly choice, billions of paper cups are still being used each year and most aren't currently recycled. There is the capacity to recycle them, so The Cup Fund will introduce cup recycling points in high-footfall locations to collect large numbers of cups and ensure that they are recycled. We have been so impressed with the scale of the winning projects' ambitions and we are looking forward to supporting them over the coming year."
Jaz Rabadia MBE, Senior Manager of Energy and Sustainability at Starbucks, added: "Addressing the issue of waste in our stores is a global priority, and we are tackling this from a number of angles within our organisation – whether it's reducing the amount of single-use materials we introduce to begin with, encouraging customers to adopt reusables or investing in an alternative cup solution that could transform the industry. Recognising the sector-wide issue, we are committed to supporting local councils and communities develop out-of-store paper cup recycling infrastructures, increasing the ease and availability of recycling for our customers."
Commenting on his company's winning scheme, Jochen Behr, Head of Recycling at DS Smith, said: "Our target is to recycle at least 24 million cups in a year alone through our partnership with Associated Vending Services members and the funding provided by Hubbub as part of The Cup Fund Grant. The grant will support the roll out of our newly launched Coffee Cup Drop Box which will provide the much-needed national infrastructure to reduce the 7.8 million coffee cups that are currently not being recycled across the UK each day."
Rise of the keep cup?
While recycling of the coffee cups that get thrown out is imperative, moves have been made to try and reduce the consumption of disposable cups in the first place through promoting the use of reusable cups.
In January 2018, MPs in Parliament's Environmental Audit Committee (EAC) proposed that all coffee shops should charge a 'latte levy' of 25 pence for the purchase of drinks in single-use cups as an incentive for customers to bring their own reusable cups. Although some individual coffee chains introduced charges, such as Starbucks, the government failed to take up the policy in its Resources and Waste Strategy, preferring to leave the decision up to individual businesses.
In addition, rather than charging extra for paper cups, many coffee shops – both independent cafes and big chains – now offer discounts (generally around 25 pence per drink) for customers bringing their own reusable cups. Starbucks offers a 25 pence discount to customers using a reusable cup, an initiative that the coffee chain estimates prompted 235 per cent more people to switch from disposable to reusable cups in the period 2008-2012 than in previous years.
However, although the use of reusable cups has increasingly been held up as a solution to the disposable coffee cup problem, the demand for paper ones remains high. Independent coffee chain Boston Tea Party decided to introduce a complete ban on single-use coffee cups after revealing that the take up of its 25 pence discount to customers who brought their own reusable cup had been 'painfully low', with only three per cent of takeaway drinks sold this way.
To compound this, in the year after introducing the ban, Boston Tea Party saw its sales fall by £250,000, highlighting how many customers still rely on disposable cups and how much work remains to be done to convince those reluctant to make the switch to reusable alternatives.