Hub of litter prevention initiatives and lessons launched by Zero Waste Scotland
A new Litter Knowledge Network is hoping to spread advice, expertise and support on litter prevention through an online hub that assembles lessons from throughout the world.
The project, launched by Zero Waste Scotland yesterday (30 May), is compiling resources including communications and case studies from across Scotland and abroad to provide best practice for those seeking to lead anti-litter drives.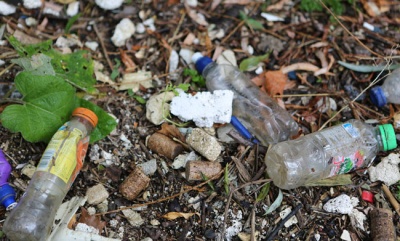 Photo: Thames21
According to the network, around 475 pieces of litter are dropped every minute in Scotland, with half of all littered items, worth £1.2 million, recyclable.
"We want to protect and preserve the beauty of Scotland for all who live and visit here," said Scottish Cabinet Secretary for the Environment, Roseanna Cunningham. "The Scottish Government has made prevention of litter and flytipping the cornerstone of Scotland's national litter strategy, 'Towards a Litter-Free Scotland', and this new resource should be valuable to all stakeholders in helping tackle the problem."
Resources on the site vary, with some providing key lessons for a litter bin strategy, others examples of successful campaigns, and others explaining how to create targeted campaigns and describing tools for monitoring incidences and severity of litter.
The site includes Zero Waste Scotland's own in-depth research and the scale, impact and attitudes to litter as well as specialist advice on specific litter challenges like dealing with cigarette butts, coffee cups and takeaway litter and tips on running community campaigns.
Last year, behaviour change campaign charity Hubbub created a similar resource, launching a 'Neat Streets' website that would act like a 'Tripadvisor for litter projects'.
Iain Gulland, Chief Executive, Zero Waste Scotland, said: "Our Litter Knowledge Network provides fantastic new tools to help stakeholders in Scotland take forward a preventative approach towards litter and flytipping. It includes great case studies on what works and what doesn't – a really useful body of practical and well-tested work, backed up by evidence.
"This evidence shows that simply cleaning up litter after it's been dropped is an endless task, as the issue still affects many of our communities and it's costing Scotland over £1 million a week. 
The organisation is also calling on those with a role in tackling littering in Scotland, including local authorities, businesses, community groups and landowners, to contribute information, ideas and good practice to the network to increase its reach and potency.
"Local authorities, businesses and landowners have a real opportunity now to adopt a different approach to litter, tailored to suit their own local circumstances – by focusing on preventative action which will save time and money. With the launch of our new Litter Knowledge Network, Zero Waste Scotland is there to help and support this work."
Cunningham concluded: "I encourage all those with a role in tackling litter to visit the Zero Waste Scotland website, and engage with the network where they can reap the benefits of the expertise and advice on offer." 
More information about the Litter Knowledge Network can be found on Zero Waste Scotland's website.
You can also read Hubbub Co-Founder Trewin Restorick's comment for Resource on what the organisation has learnt about behaviour change from its Square Mile Challenge campaign.