How will cities guarantee a smart future for waste collections?
As the world's urban population continues to increase, Mark Abbas, Director of Business Development of cloud technology company AMCS, explains how the moving to a smart city model can ensure a sustainable solution to urban waste collections, supporting the health and wellbeing of cities for the future
Sponsored content
The world's urban population is expected to double by 2050. This will account for 68 per cent of the global population, according to the European Commission. With this growth comes increased consumption of resources to produce more material goods, which in turn become waste – the more people, the more waste generated.
The sheer volume of waste produced globally is estimated to double over the next ten years. These figures illustrate the importance for local authorities and waste management companies to think ahead and find innovative, long-term solutions to municipal waste management.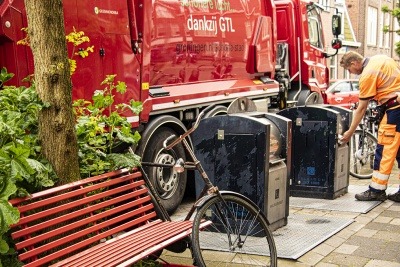 Sustainable waste management is part of what creates liveable cities that grow with their populations, privileging their health, wellbeing and environment. These factors contribute to populations feeling rooted and invested in their communities. But this can only happen if local authorities and waste management companies provide visionary leadership in creating a sustainable environment with the necessary infrastructure to support it.
Visionary leadership understands that the future of sustainable cities is the smart city model. Traditional schedule-based waste collections are already insufficient and even inefficient, adding to pollution problems that pose a risk to public health.
Incorporating the use of data and digital systems can bring both efficiency and sustainability benefits. Incorporating solutions such as dynamic forecasting and route optimisation can reduce operating costs by reducing the number of vehicles you need to operate by up to 45 per cent, while also reducing CO2 emissions by up to 40 per cent.
Meanwhile, sensor-based containers and wheelie bins equipped with radio-frequency identification (RFID) tags give full visibility into waste collections, so local authorities and waste management companies can see immediately how to improve their processes.
Using such technologies provides agility for local authorities and waste management companies, securing a long-term sustainable future for cities and transitioning to smarter ways of managing waste and the urban environment.
Government legislation in pursuit of targets for carbon reduction, waste reduction and recycling will soon be the driving force behind these developments, but local authorities and companies that adapt now will make the transition easier and more cost-effective.
At AMCS, we're helping forward-thinking local authorities and waste management companies consider their next moves. AMCS is a trusted partner for many of the world's leading waste management companies. We are supporting our customers' future with innovative technology and with best-practice processes.
The municipal waste section on the AMCS website contains a wealth of resources for local authorities and waste management companies keen to understand what we do, including a series of videos explaining how AMCS can help optimise municipal waste collections.
AMCS' Platform Municipal offering includes state-of-the-art technology solutions for household waste and recycling collection, route planning, vehicle technology, cart management, and customer service support. The AMCS Platform also provides full support for municipalities that subcontract collections with service level monitoring, dynamic reporting and analytics.
You can find out more about AMCS and what it can offer the municipal waste sector on the AMCS website.