How Bogotá's recicladores are picking a fight (for inclusion)
As the city rises up the development index, Bogotá's waste services are undergoing structural transformation. Rachel Simon learns how Colombia's waste-picking recicladores are fighting to play their part as services are commercialised, and to do so with better pay, recognition, and conditions 
Mention Colombia and the first thing to spring to mind for many people will be the violence and scandals like those portrayed in the hit TV crime series Narcos. But Colombia is, in fact, a fast-modernising middle-income country, with vibrant cities, beautiful scenery and innovative urban environments. Business is booming in Bogotá, the capital. However, huge numbers are still living in poverty, and many of the city's poorest people make a living by selling materials gathered from its rubbish. This form of waste-picking plays a crucial role in the recycling rates of developing countries, but these people are often marginalised, suffer discrimination and work in unsafe conditions.
In Bogotá, there are more than 14,000 waste-pickers, serving a population of eight million that sends more than 6,300 tonnes to landfill daily. Private companies have contracts drawn up around collection, transportation and disposal of waste, but Bogotá's waste-pickers, or recicladores, are focused on the sorting, reuse and recycling of the materials they can access from on-street and household waste, which reduces the amount of plastics, metals, glass and cardboard the city sends to landfill. Previously operating outside the regulatory framework, Bogotá's recicladores have now become the first in Colombia to gain pay and recognition from the government. By asserting their place in the delivery of public waste services, they have boosted recycling rates, and ensured that the city takes recycling seriously.
Their journey has not been easy. Federico Parra, from the NGO Women in Informal Employment Globalising and Organising (WIEGO) explains: "The structural transformation of public services from 1992 to 2012 prioritised privatisation of waste services while punishing and attacking waste-pickers."
Expelled from dumpsites in the 1980s when Colombia adopted international standards on landfill, waste-pickers began to make their living on the streets, but they had to work around legislative restrictions that marginalised their role. When Bogotá privatised waste services in the 1990s, cutting-off their access to materials, the waste-pickers organised. Recicladores formed collective associations, organised demonstrations and public protests, and mounted legal challenges. A string of rulings from the Constitutional Court ordered that municipal governments should undertake affirmative actions and consider waste-pickers when awarding contracts. A major turning point came in 2011 when four private companies monopolised a US$1.7-billion (£1.3 billion) tender for management of Bogotá's waste. Colombia's Constitutional Court rendered the tender null, and ordered Bogotá to recognise recicladores as subjects of special protection, remunerate them for their part in the waste system, and promote their social, organisational and entrepreneurial potential.
An alliance of waste-picker organisations, small warehouses and scrap dealers, supported by WIEGO, came together to put forward a solution. After months of negotiations, the municipal government and associations came up with plans to register recicladores and their collection centres (bodegas), and start a payment-by-weight system for materials collected. A study funded by WIEGO on the value of materials collected by recicladores enabled them to negotiate a fair tariff for remuneration. As a result of the court ruling, the municipal government also introduced a campaign for householders to separate their recyclable materials at source, raising awareness of the importance of recycling.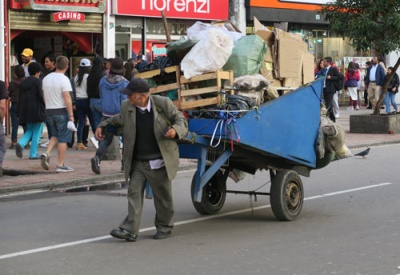 The Asociación de Recicladores de Bogotá (ARB) is the largest association in the city and has played a leading role in the fight for inclusion. Nohra Padilla, Director of the ARB and winner of the Goldman Environmental Prize for her tenacity in fighting for access for waste-pickers, outlines the challenges and opportunities facing waste-pickers today: "The recyclers' association has always been, before anything else, a way for us to support our families. But the good thing is that the social and environmental goals go hand in hand. The organisation's waste management processes benefit our families and the rest of society".
Working successfully with government means conforming to regulations and inspections. A large part of Nohra's work is about ensuring that the ARB is organisationally, financially and logistically formalised, and providing support to other associations to do the same. Recognising and remunerating the thousands of waste-pickers who play a part in the system is a complex and on-going process. Associations and their bodegas have to go through audits and new monitoring systems to become authorised weigh centres.
To be eligible for payment, recicladores have had to take part in a census, gain access to a banking service, and then weigh and register their materials at one of the authorised centres. The first 300 waste-pickers received payment in 2013, which amounted to around three times their previous earnings. Last December, recognised associations started to administer payments to waste-pickers: six associations are now recognised, representing 5,000 workers. A further 144 waste-pickers' organisations are at various stages of the formalisation process.
This is combined with strong ambitions for technical and logistical improvements to ensure better prices for materials and more efficient operations. Before the 2011 court ruling, ARB had developed a real-time online system for material collections data, which was crucial for implementing the payment system. Recicladores can weigh and register their materials at bodegas, or have their materials collected by ARB's weigh-trucks at specific points in the city. The ARB and partners are also running a number of technical pilot projects. These include an e-waste recovery scheme by the Asociación Puerta de Oro (Door of Gold), where computers, printers, televisions, and other household electronics are disassembled and stripped of valuable materials such as copper, and an organics recovery scheme of grass-cuttings, food waste and tree-cuttings at a major park in Bogotá, which produces organic fertiliser to use onsite. The Asociación de Recicladores de Mujeres specialises in improving the quality of recovered plastic bags and PET, with organisational processes for cleaning bottles and removing bottle tops.
This article was taken from Issue
88
While most materials are still collected on the street, the ARB also runs a micro-route for collection of pre-sorted recycling from some residents. This strengthens their recognition as public service providers. "Most of public really appreciates work of recyclers", explains Padilla. "Recicladores are proactive and speak to people about recycling on the streets, which helps build awareness of the importance of recycling as well the association."
But it still isn't all clean sailing. Aside from the challenges facing the associations, municipal governments undoubtedly need to address capacity-building to manage the processes around integration. Their short-term political cycles also mean funding and support is uncertain in the long term. In addition, private companies can hold strong links with elected and executive officials, and can push their own interests at the expense of recicladores. However, thanks to data from the recicladores' payment-by-weight system, there is now a better understanding of how much waste recicladores recover, which should enable contracts to be drawn up for all participants that represent better public value for money.
The Constitutional Court rulings mean that all Colombian municipal authorities must now consider recycling and waste-pickers in their municipal solid waste plans, but the national government is behind on this agenda. Bogotá is as yet the only city where recicladores are receiving payment for their work, but with the ARB's Director Padilla also heading up the Asociación Nacional de Recicladores de Colombia, other cities will soon be following Bogotá's example.