Government responds to resources and waste consultations
The UK Government has confirmed its commitment to a range of policy measures that will shake up the waste and recycling world in its responses to three waste and resources consultations published yesterday (23 July).
In its responses, the Department for Environment, Food and Rural Affairs (Defra) has confirmed it will introduce a deposit return scheme (DRS) for drinks containers, a 'full net cost recovery' extended producer responsibility (EPR) scheme for packaging, and a consistent set of core recyclable materials (including food waste) to be collected from households and businesses in England – all by 2023.
The consultations on policy proposals set out in the Resources and Waste Strategy were launched in February and ran for 12 weeks, alongside a consultation from HM Treasury on the prospect of a tax on plastic packaging that contains less than 30 per cent recycled content.
Along with the consultation responses, Defra also published an updated policy statement on its Environment Bill, summarising progress since the publication of the draft Bill in December 2018. As well as commenting on air quality, biodiversity, green spaces and water, on waste and resources, the statement sets out Defra's aim 'to lead internationally in maximising resource efficiency, minimising waste, and moving towards a more circular economy.'
Announcing the release of the policy statement, Environment Secretary Michael Gove, who may find himself in a new job by Thursday morning following new Prime Minister Boris Johnson's Cabinet reshuffle this evening, said: "The measures in our Environment Bill will position the UK as a world leader, ensuring that after EU Exit environmental ambition and accountability are placed more clearly than ever before at the heart of government.
"As we have set out today, our plans will improve air quality so that our children live longer, restore habitats and increase biodiversity, strive towards a more circular economy and ensure we can manage our precious water resources in a changing climate."
Recycling consistency
The government's response to the views provided in the consultations by individuals, householders and stakeholders has been eagerly anticipated by the resources and waste industry and beyond. The consultation on consistency in household and business recycling sought views on the introduction of a consistent set of recyclable materials to be collected from households and businesses, with standardised collection services, in order to make it easier and simpler for everyone to recycle anywhere in the country.
'Overwhelming' support was reported for a greater level of consistency in household dry recycling collections. As such, Defra will be seeking to amend legislation to require all councils in England to collect 'at least' the following materials from 2023:
Glass bottles and containers – including drinks bottles, condiment bottles, jars;
Paper and card – including newspaper, cardboard packaging, writing paper;
Plastic bottles – including clear drinks containers, HDPE (milk containers), detergent, shampoo and cleaning products;
Plastic pots tubs and trays; and
Steel and aluminium tins and cans.
Separate weekly collections of food waste were also supported by a majority of respondents, something Defra has also pledged to introduce, adding the caveat that the different circumstances of different local authority areas would need to be taken into account – for instance the complexities of collecting food weekly in both very densely populated and very sparsely populated areas. This point will be warmly received by the Housing, Communities and Local Government (HCLG) Committee, which warned on 19 July that councils must be allowed flexibility in their recycling strategies if they are to meet their targets.
In terms of garden waste collections, it was proposed that a free weekly collection of garden waste be offered by councils; however, given the size of opposition to this due to funding issues, the government will be further examining the costs and benefits of this proposal before deciding whether to press ahead.

Looking at businesses, Defra will be seeking to amend legislation to require businesses, public bodies and other organisations to separate their dry recycling – and where quantities are sufficient, food waste – from residual waste.
DRS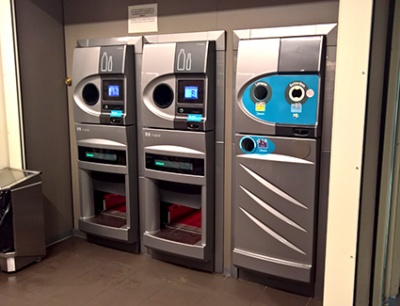 Image: Donald Trung Quoc Don (徵國單) / Wikimedia Commons CC-BY-SA-4.0
The
DRS consultation
asked for input from the public and stakeholders on what a potential DRS could look like, how it might be managed and the possible impacts it could have, both positive and negative. In total, 208,269 responses were received, many through campaigns by Greenpeace and the Marine Conservation Society.
Defra' response does acknowledge the comments from local authorities, which in general expressed concern about the impacts of a DRS on kerbside recycling systems, with calls for a DRS to be put on pause until other policy measures like EPR and consistency have been introduced.
Despite this, the government has pledged to introduce a DRS for drinks containers in England and Wales from 2023. Officials in Northern Ireland will aim to match this timetable, while the Scottish Government has already brought forward proposals for its own scheme.
Defra has not yet confirmed what model of DRS will be used in England and Wales, whether the 'all-in' scheme backed by Gove and Resources Minister Therese Coffey, which would see a deposit added to a wide range of containers up to three litres in size, or a more focused 'on-the-go' scheme that would only include the types of containers that are regularly bought and consumed out of the house.
Moreover, since Defra has said it will aim to 'work with the devolved administrations to accomplish a coherent UK-wide approach', this might suggest that the UK Government would like to introduce a DRS in line with the Scottish proposal, which supports the 'all-in' approach. A second consultation will be held in 2020 to determine the costs, benefits and specific details of the DRS, including which materials and sizes will be included.
Read more: DRS – A whole can of worms? Alupro's Rick Hindley comments.
EPR
The government has confirmed it will be introducing an EPR system for packaging producers in 2023. Further analysis will be required to inform the details of the system, but Defra has made it clear that it would like to see a 'full net cost recovery' regime, to ensure producers, not local authorities, shoulder the cost burden of collecting and managing the disposal of their waste.
A research project has been commissioned to consider how fees and incentives through the EPR regime could be used to encourage eco-design for packaging – more sustainable packaging that is designed to be easier to recycle. Defra has also stated that it would like to introduce a mandatory labelling scheme for packaging, subject to further analysis, noting that there was strong support in the consultation (90 per cent) for a mandatory obligation on producers to label their packaging as either recyclable or not recyclable.
A second consultation on EPR is anticipated to be launched in 2020. Crucially, Defra has acknowledged the link between EPR and the other waste policy proposals on DRS and consistency, stating: 'Reforms to the packaging producer responsibility system are linked directly to those policy proposals and to the introduction of a DRS for drinks containers in Scotland. Further work to develop our policy proposals in all three areas will be undertaken in parallel ensuring they form a cohesive packaging of measures.'
This will be welcomed by stakeholders, many of whom had expressed concern that the government did not recognise how the policies overlapped – a letter sent to Gove in May, from lead author Paul Vanston, Chief Executive of the Industry Council for Packaging and the Environment (INCPEN), stressed the need for 'joined-up implementation' of measures, as well as a 'unified approach across the UK nations on legislation, timescales and implementation'.
Government changes create uncertainty
The publication of the government's consultation responses comes at a time of political upheaval, with the election of Johnson and the likely Cabinet reshuffle making it unclear who will have responsibility for enacting the proposed legislation.
Indeed, there is also a risk that further progress on bringing the Environment Bill forward will stall as the government turns its attention back to Brexit, particularly if Michael Gove is replaced as Environment Secretary, given the political clout he has brought to Defra and environmental policy since his appointment in 2017.
Welcoming the responses and congratulating Defra on its "quick turnaround of thousands of consultation responses", Ray Georgeson, Chief Executive of the Resource Association, added: "It would be unreasonable to expect more at this stage; frankly the bigger issues of change in British politics happening this day with the handover of power to a new Prime Minister and the expected Cabinet reshuffle are more significant."
However, as Georgeson noted, the timing of the publications from Defra could be useful "in terms of the likely impending Parliamentary recess, as it signals intent in relation to the Environment Bill."
Jacob Hayler, Executive Director of the Environmental Services Association (ESA), which represents the UK's waste management sector, concurred, saying that the publication "sends a clear message to the incoming Prime Minister that he must be bold in implementing and where possible accelerating the proposals."
You can find the government responses to the consultations on consistency, DRS and EPR on the Defra website.