First-class recycling
When it comes to green credentials, airports (and, most often, the aviation activities they support) can be a subject of concern and criticism. However, Stansted (the UK's fourth busiest airport) is taking steps to address this image – at least when it comes to waste management. 
In January 2014, the company was awarded a 'Gold' National Recycling Stars accreditation – and, by the end of March, 63 per cent of its waste was recycled and 93 per cent diverted from landfill.
This was no small feat: Stansted generates over 5,000 tonnes of waste annually, and is home to 190 companies employing 10,200 people. Its waste programme therefore requires intricate choreography and a high degree of cooperation – all of which is overseen by Kathy Morrissey (pictured, right), Stansted Airport's Environment and Utilities Manager.
The secret to success is making it easy, Morrissey tells me: "The first thing is to provide the right bins and collection facilities. You need to make it convenient for people – otherwise it will just be too difficult."
Providing retailers with the right facilities means a large amount of waste is sorted directly on site. "Our priority is to segregate materials at source", Morrissey says."We've got bins for plastic bottles; can recycling bins; paper and card recycling… and we have a food compactor for food waste from the retail units." 
Retailers are also incentivised to recycle as there is a reduced collection fee for recycling compared to general waste. Morrissey concedes, however, that the largest obstacle the team faces is encouraging participation. To this end, Stansted has implemented an education campaign, 'Vision Green', which aims to boost recycling through a series of 'awareness days', and provides motivational information regarding Stansted's sustainability agenda.
The airport also provides airlines with recycling points for newspapers, magazines and plastic bottles, but there are barriers to recycling airline food waste, due to stringent regulations relating to food coming in from outside Europe.
Morrissey's team works closely with the airport's waste contractor, Grundon, to source disposal options for residual waste, too. "We've made a really big stride in identifying sites that can take our waste that are not landfill. Only in extreme operational difficulties would we consider landfilling", she says.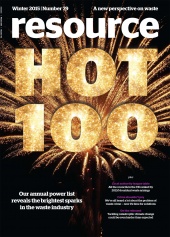 This article was taken from Issue
79
All green waste is composted on site and turned into fertiliser for the landscaped areas that surround the airport – something that Morrissey seems particularly proud of: "We are very much focused on protecting wherever possible, and then mitigating any loss of biodiversity wherever we possibly can."
Dry mixed recycling is sent to off-site sorting stations, where it is segregated and recycled, and non-recyclable material is sent to a mechanical biological treatment (MBT) facility or transfer station for energy recovery, while contaminated waste is sent for energy recovery at an approved plant.
As well as increased recycling, Morrissey says the Stansted team makes an effort to reuse materials directly on site. This includes collecting and crushing waste materials from the runway, taxiways, and road surfaces to form aggregate to build new roads, paths and foundations, as well as reusing grit when possible.
Taken together, these steps have seen Stansted beat its 2015 target of recycling 60 per cent of waste, and the airport is now aiming to send zero waste to landfill by the end of 2015. 
Other businesses wishing to see their recycling programmes take off would be advised to start off with a waste audit, Morrissey says, to identify the biggest, most achievable targets: "Tick off the big wins and focus on the areas where you have the biggest waste streams."