Firefighters stretched by three waste fires
Around 100 firefighters were needed to tackle a large warehouse waste fire on Chequers Lane in Dagenham on Saturday (22 April), one of two large waste fires in London over the weekend, while a recycling centre in Teesside was forced to close after a 'large fire' in a refuse collection vehicle.
Photo: London Fire Brigade
London Fire Brigade was called to the warehouse, owned by White Skip Hire and containing around 100 tonnes of mixed waste, at 5.57pm on Saturday before the fire was brought under control by 9.12pm.
The fire spread quickly across the 2,800-square metre warehouse and smoke produced by the blaze was visible for miles around the site. The cause of the fire remains unclear.
Station Manager Gary Woulds, who was present at the scene, said: "Crews worked extremely hard to get the fire under control. It affected a single storey warehouse containing approximately 100 tons of mixed waste and machinery."
Firefighters from crews from Barking, Dagenham, East Ham, Ilford, Romford, Stratford and other stations remained at the scene for some time for the damping down process.
Line of fires
The Dagenham fire is just one in a spate of blazes from the last few days, providing ample food for thought over the frequency and prevention of these fires.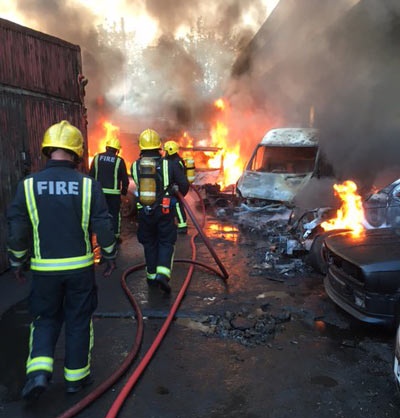 Photo: London Fire Brigade
On Friday (21 April), a 'large amount' of refuse inside a collection vehicle caught fire at Dunsdale Recycling Centre near Redcar in Yorkshire, forcing the plant to temporarily close. Two crews from Saltburn and Redcar fire stations fought the blaze, the second vehicle fire at the site this year, which left no one injured.
While back in London, a fire at a car scrap yard on Wanstead Park Road in Ilford yesterday morning (24 April) required six fire engines and 35 firefighters and the temporary closure of a stretch of the capital's North Circular road. The fire brigade was called at 5.45am and was brought under control by 8.47am. Seven cars and three vans were destroyed in the blaze, with firefighters from the London Fire Brigade taking swift action to cool and remove cylinders that are liable to explode when exposed to heat, preventing further damage.
The causes of all three fires are currently under investigation.
Waste fires are a problem that have been the focus of investigation by the Chief Fire Officers' Association (CFOA) for the past year, as the industry and firefighting services seek to find greater evidence as to how fires comprising of waste materials can best be prevented and fought.
According to the CFOA, there have been around 250 incidents of waste fires per year for the last decade, with an estimated cost to fire and rescue services of around £16 million a year.
Waste fires are a constant threat in the industry. Last month four major waste fires started in a matter of days, leading to one site, Siteserv Recycling's Llandow facility, having its permit suspended, and another company, Devon Contract Waste, being forced into making a number of redundancies after its headquarters was destroyed by a blaze.
More information is available in a comment piece written by Mark Andrews, Waste Fires Lead, at the Chief Fire Officers' Association, for Resource suggesting how the waste industry can reduce its fire risk.