EAC proposals to tackle fast fashion rejected by government
The government has today (18 June) rejected proposals for a one pence tax on clothing to fund the collection, recycling and reuse of textiles, in its response to a report into the sustainability of the fashion industry carried out by Parliament's Environmental Audit Committee (EAC).
The EAC published the report in February 2019 after a long inquiry process. During the inquiry, which began in June 2018, the committee interviewed numerous figures within the fashion industry as well as environmental campaigners and concluded that clothing producers and retailers were not doing enough, voluntarily, to improve the environmental impact of their industry.
The growth of 'fast fashion' – cheap, mass-produced clothing lines with quick, seasonal turnarounds – has created a significant environmental problem, with unwanted clothes more often than not ending up in landfill or incineration: 300,000 tonnes a year in the UK alone, according to the EAC. While there has been a noted rise in recent months in the number of people donating their clothes to charity shops – possibly a result of the popular Netflix programme 'Tidying Up with Marie Kondo' – this hasn't slowed the churn of the fast fashion machine, and there are suggestions that some charity shops are struggling to deal with the influx of material.
The EAC found that a majority of retailers were not making adequate efforts to improve their impact. JD Sports, Sports Direct, TK Maxx, Amazon UK, Boohoo and Missguided, among others, were singled out as the
least engaged of all retailers
that the committee interacted with, while only 11 retailers in total in the UK have signed up to the Sustainable Clothing Action Plan (SCAP), a commitment to reduce their carbon, water and waste footprints by 2020.
In its report, the EAC called for legislative measures to force retailers to make changes, rather than relying solely on voluntary actions by industry or consumers. This included a proposal for an extended producer responsibility (EPR) scheme for the fashion industry, which would see producers pay a levy of a penny per garment in order to raise funds to improve the collection of unwanted textiles. The committee also called for the SCAP commitments to be made mandatory for all retailers with an annual turnover of more than £36 million.
Government response
The government's response to the EAC's report has seen it largely reject its recommendations, making clear its preference for voluntary action to tackle the environmental issues thrown up by fashion industry over legislative action. While it stated its commitment to developing SCAP as a voluntary initiative after 2020, the government response did acknowledge that is was looking to 'supplement' the programme with 'other policy measures'.
However, it has not agreed to the EAC's producer responsibility proposal, stating only that it was 'committed to reviewing and consulting on measures such as EPR and product standards for five new waste streams by 2025, with two of these to be completed by 2022.' One of these new waste streams will be textiles, but it is unclear whether a consultation on EPR for textiles will take place before 2025 or what sort of measures could be involved when it is finally implemented.
The EAC also called for a ban on the incineration or landfilling of unsold stock that is suitable for reuse or recycling – similar to a law recently proposed in France, which would mean unsold consumer goods such as clothes, electronics and furniture could no longer be destroyed. The UK Government, however, stated its preference for voluntary measures, clarifying that 'positive approaches are required to find outlets for waste textiles rather than simply imposing a landfill ban'.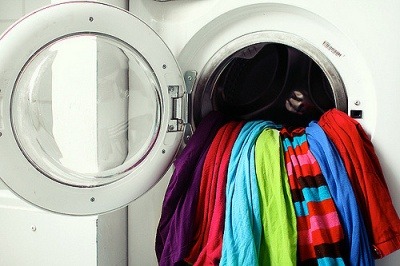 Flickr / suzettesuzette
Also rejected was the proposal for mandatory targets for higher-turnover fashion retailers with the government again pointing to achievements made by the voluntary SCAP initiative, the signatories of which have cut their carbon emissions by 10.6 per cent since 2013 (against a target of 15 per cent by 2020).
On the issue of microplastics from clothing, which the EAC expressed strong concerns about, the government did state it would 'consider how best to tackle the impacts [...] following collection of the necessary evidence.' Its response notes that government-funded research is under way to understand how microplastics reach the environment, including plastic fibres from textiles.
Commenting on the government's response, Mary Creagh, EAC Chair, said: "Fashion producers should be forced to clear up the mountains of waste they create. The government has rejected our call, demonstrating that it is content to tolerate practices that trash the environment and exploit workers despite having just committed to net zero emission targets.
"The government is out of step with the public who are shocked by the fact that we are sending 300,000 tonnes of clothes a year to incineration or landfill. Ministers have failed to recognise that urgent action must be taken to change the fast fashion business model which produces cheap clothes that cost the earth."
The full report from the EAC, and the government's response, can both be read on the Parliament website.