Cross-industry group announces plan to boost black plastic packaging recycling
Cross-industry group The Black Plastic Packaging Recycling Forum has agreed a range of new actions and commitments to attempt to tackle the long-standing challenge of recycling black plastic packaging. 
The cross-industry forum includes members from packaging manufacturers, packers, brands and retailers, to material reprocessors, trade associations and independent specialists. With guidance from plastic recycling association RECOUP, the group has come up with a Black Plastic Packaging Recycling Roadmap: a range of actions which it hopes will enable this valuable plastic type to be widely recycled back into a raw material source, resulting in less waste and improved resource efficiency.
Black plastic packaging is notoriously difficult to recycle because the majority of it is coloured using carbon black pigment, which absorbs infra-red light. This means that the packs are not detected and hence not sorted by optical sorting systems, as equipment using NIR (near infra-red) detection is used widely in materials and plastics sorting facilities. As a result, black plastic packaging commonly ends up as residue and is disposed of in landfill or incinerated and used for refuse derived fuel.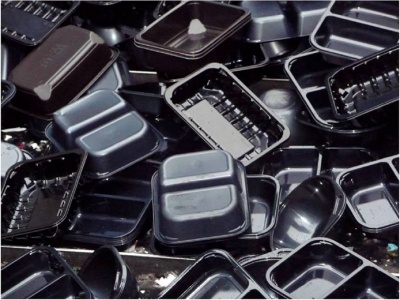 Roadmap to success
The forum's Black Plastic Packaging Recycling Roadmap represents a commitment to the industry and public to find sustainable solutions that will enable the recycling of all black plastic packaging bottles, pots, tubs and trays by the end of 2018.
Representatives from all sectors will engage with ongoing activities to explore already available and new opportunities, including:
Building on previous work, assessing the impacts of black plastic packaging items and use of detectable black packaging on material sorting facilities;
Developing a defined roll out of detectable pigment;
Encouraging and enabling technical providers to develop sorting and reprocessing solutions;
Testing the viability of using different colours and shades to ensure any changes of pack colour will demonstrably improve detectability for recycling;
Assessing new alternative sorting solutions; and
Researching and testing closed and open loop end markets.
All of this will feed into best practice guidance for brands, retailers and local authorities on how they should collect and use black plastic packaging.
The forum believes that exploring these issues will better facilitate the collection, sorting and recycling of black plastic packaging, and the development of sustainable solutions, which can be implemented by all members of the supply and recycling chain. This includes end-market development, which is essential to ensure demand is created to enable the value of this material to be fully realised.
Working together to increase plastic recycling rates
Commenting on the launch of the roadmap, Recoup CEO Stuart Foster said: "Despite the inevitable politics and positioning behind issues such as black plastic recycling, our role at RECOUP is to bring the various groups and stakeholders together to make practical steps forward and build on the great work of individual organisations to date. The ultimate aim is to drive black plastic recycling forwards in a practical and sensible way, turning ambitions and collaborative thinking into actual delivery."
INCPEN Chief Executive Paul Vanston added: "The technical viability of recycling black plastics has been known for some years following the regional trial in 2013 involving Marks and Spencer, Sainsbury's, the Kent Resource Partnership, RECOUP, WRAP, Nextek and the waste management sector.  
"What has been more difficult is securing agreement across the whole supply chain on the economic viability. This new commitment by so many organisations, including INCPEN and many of our members, is a brilliant example of how seemingly intractable problems can lead to being solved when everyone works together. For customers and councils, delivering this commitment in 2018 will be a 'win-win' on ease and consistency of recycling up and down the country."
In a similar vein, WRAP CEO Marcus Gover also emphasised the need for the whole industry to work together: "WRAP has been working for a long time to make black plastic packaging recyclable. We have a solution which means that we can produce black plastic packaging that can be detected in the sorting process and recycled. 
"We now need the whole industry to take up that solution – from packaging producer and retailer to waste manager and recycler. This commitment to do that is welcomed and I look forward to seeing the action that will follow.  Citizens want their black plastic packaging to be recyclable. Together, we now need to make that happen."
Sorting out the problem of black plastics
The persistent problem of recycling black plastics has attracted an increasing amount of attention in recent years, with the roadmap being the latest attempt we've seen to address the problem.
Earlier this year, a consortium of plastics processors and manufacturers was awarded a £1.47-million European investment to investigate alternatives to the 'urgent' problem of unrecyclable black plastics.
The consortium consists of technical compounder Luxus, polymer processing partner Polykemi and plastics manufacturer One51, and hopes to replace carbon black and other obstructive pigments with a range of near-infrared (NIR) detectable alternatives for use across Europe in packaging, automotive and waste electrical and electronic equipment (WEEE) manufacture.
The issue was also mentioned in March when BBC's The One Show highlighted the confusion surrounding black plastics recycling and what is being done about it, with the show's presenters interviewing representatives of a partnership between plastic consultancy Nextek and Viridor that is aiming to address the problem.