Brits waste £4 billion a year on unfinished food when dining out
Brits waste £4 billion a year by not finishing their meals when dining out, according to new research by online marketplace company Groupon.
Eating out has become a significant part of British culture, the research shows, with 35 per cent of Brits dining out at least once a week. However, a further 35 per cent admit to not finishing their food when they last went out to eat. On average, the study suggests, Brits waste £80.21 every year on unfinished food when eating out, amounting to a whopping £4,042,219,569 in total.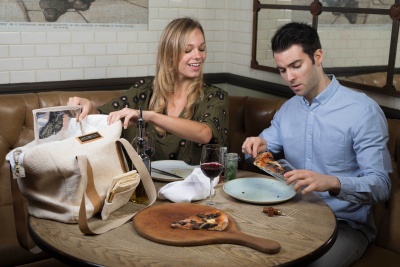 When broken down, the research shows that 25-34-year-olds waste far above the average, with 54 per cent eating out at least once a week and wasting £276.52 on unfinished food every year. The issue is most acute in London, where the capital's residents waste a huge £504.90 every year on unfinished food.
With eyes bigger than their stomach, the average Brit pays £4.41 on a meal (men spend slightly more than women, shelling out £26.56 against £22.66), with 23 per cent claiming ordering while hungry causes them to waste food, another 14 per cent believing that sharing dishes with friends leads to overordering.
In terms of the cuisines that see the most food wasted, curry is out in front with 23 per cent admitting to giving up on their lamb bhuna, while pizza and Chinese food come in behind, both with 18 per cent.
Dog's dinner
In a bid to reduce restaurant food waste, Brits are increasingly being encouraged to take their leftover food away in doggy bags, something that doesn't seem to come naturally in the UK, with 60 per cent of Brits saying they have never been offered a doggy bag in a restaurant, while 27 per cent say they would be too embarrassed to ask for one and 16 per cent would worry that food would leak in their bag.
In order to tackle the concerns raised above, Groupon is launching its new doggy bag, the 'Takeaway Tote', in order to encourage diners to take their leftovers home with them. The foldable doggy bag, which retails at £7.99, has recycled leather straps and contains a pizza pocket, hot and cold food containers, cutlery holders, a jar for condiments or cheeses and, crucially, a camel pack to bring back that last glass-worth of wine. The bag also comes with an air freshener to mask any conspicuous smells.
Commenting on the launch of the 'Takeaway Tote', Jon Wilson, Managing Director at Groupon UK, commented: "Our Takeaway Tote offers people the chance to take some of the amazing food they experience in restaurants back home with them, reducing the amount of uneaten food. We see this as both a fun and practical product and the addition of the wine pouch is sure to please many! Masked as a tote bag, we've tackled some of the key issues that stopped Brits taking food home with them before."
Joe Wally, Managing Partner at Joe and Co Burgers, a Groupon merchant that will be trialling the new 'Takeaway Tote' bags, added: "We're always looking for new innovations so we're really excited to be trialling Groupon's Takeaway Tote. Doggy bags are pretty common in the US and we think it's about time customers' felt comfortable enough to take our amazing leftover food home with them - especially when their eyes have been bigger than their stomachs!"
This is not the first time such an initiative has been attempted, with a Scottish Government scheme - 'Good to Go' - launched in January 2016 by Zero Waste Scotland offering restaurants branded doggy bags to offer to customers to take away their leftovers and combat food waste, with results from a successful pilot scheme in 2014 seeing an average 42 per cent reduction in food waste across participating restaurants. France even introduced a law in January 2016, legally obliging French restaurants to provide doggy bags for leftover food if requested by customers.
Food waste reduction initiatives are not limited to providing takeaway containers either, with food waste app 'Too Good To Go' linking restaurants with excess food to customers who can place orders on the excess food and come and collect it at a discounted price - between £2 and £3.80 a meal.