Bike-share companies accused of creating e-waste mountains
Image: Oliver Dixon / cc-by-sa 2.0 / geograph.org.uk
Bike-sharing is a growing trend across the world, encouraging people in cities to ditch cars and public transport in favour of cycling – a convenient, money-saving and emission-slashing way to get around. But the apparently eco-friendly companies could be producing a lot more waste than users realise – and one charity is now calling for proper reuse and recycling policies to be put in place.
After the Santander Cycles scheme took off in London in 2010 (formerly Barclays Cycle Hire, but perhaps better known as 'Boris bikes' after the mayor who championed them), the bike hire market has been growing exponentially in the UK, with companies like Ofo, Mobike, Hourbike and YoBike spreading into major cities across the country.
The premise is simple: download an app to your smartphone, use it to find a bike on a map, unlock the bike for a small fee, and then leave the bike in a designated dock or location once you're finished. The bike will then be locked again until another user comes along. Some apps offer membership rates and for others the cost of a single ride can be as low as £1.
Most of the UK schemes are for standard manual bikes, but elsewhere there are companies offering electric bikes (such as JUMP in the United States, which is set to make the move into Europe with a branch in Berlin) and even scooters: billion-dollar US startups Bird, Spin and Lime rent out electric scooters by the minute.
However, even the standard bikes constitute e-waste once they reach the end-of-life stage, given that they are fitted with GPS software that links them up to a wider city network. Jim Puckett, Director of the international waste trade charity Basel Action Network (BAN), explained: "These bikes when scrapped are actually a form of electronic waste... Even the non-motorized bikes contain hazardous lithium-ion batteries and toxic circuit boards."
Worldwide, there are apparently more than 10 million Ofo bikes in operation, while Mobike has a presence in more than 200 cities. News broke back in 2017, with shocking pictures in the Guardian, that huge mountains of these bikes were being dumped in so-called 'bicycle graveyards' in China – the country where the bike-sharing technology first took off and from where most of the big UK companies, including Mobike and Ofo, originate. Whether because they are damaged beyond repair, or because the company operating them went bust (as was the case with China's Bluegogo), these bikes are now potentially creating a huge amount of waste.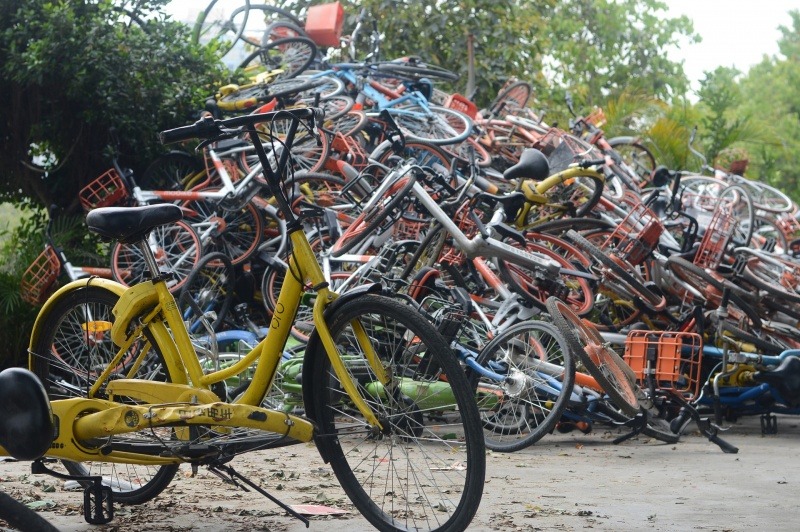 BAN has accused fast-growing bike-share companies of failing to set up adequate end-of-life policies for their products. Puckett said the bikes should be "refurbished for children or used for transport in developing countries. If that is not possible, the parts such as GPS units, electric locks, motors and wheels can be harvested. For both their value and their toxicity, these bikes should not just be treated as garbage or scrap metal."
No evidence has yet come to light that bikes in the UK are being dumped in the same way as in China – but the same companies are operating over here and dramatically expanding their reach into more UK cities. In America, Ofo has been criticised for dumping 'lightly used' bikes at scrap yards – earlier this week, an image of bright yellow Ofo bikes piled up at a recycling centre in Dallas (a state the company has now stopped operating in) was shared by an outraged Facebook user, prompting Ofo to state: "We remain committed to environmental sustainability and will continue to donate Ofo bikes in good working condition to local communities and recycle all bikes when they're beyond repair or no longer able to use."
According to BAN, however, such admissions do not go far enough. The charity, which exposes the dumping of hazardous e-waste in developing countries, is calling for proof that 'all bicycle and scooter rideshare companies, and the city governments that license them' will 'establish responsible end-of-life policies to ensure maximal reuse and safe and responsible recycling for those bikes and scooters that cannot be reused.'
BAN's e-waste recycling programme, e-Stewards, was set up in 2003 to bring together qualified electronics recyclers in the US and Canada under a pledge to use 'only globally responsible, safe means to process electronic waste'. BAN is offering to provide support through the e-Stewards programme for companies and governments wishing to developing e-waste recycling policies.
"The question now begged is whether the new rideshare companies truly just care about the environment or are they really all about grabbing customer dollars and data," Puckett said. "We hope they move very quickly to give us the right answer before we discover more bike dumps. We stand ready to help."