Amey energy-from-waste plant begins operations in North Yorkshire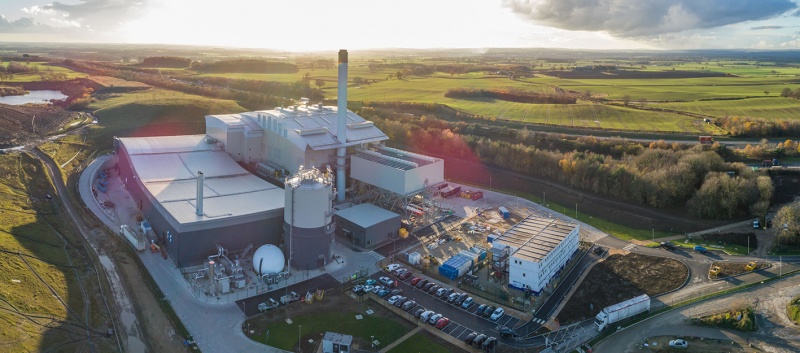 A new waste management facility in North Yorkshire has recently been declared operational and claims it will reduce the amount of waste to landfill in the county by 90 per cent.
Allerton Waste Recovery Park, situated on a former quarry close to a landfill site off the A1, was funded through the government's public private partnership scheme, with infrastructure service provider Amey plc contracted to design, build and operate the facility for the next 25 years in partnership with North Yorkshire County Council and the City of York Council.
As well as the energy-from-waste (EfW) plant, the site has the capability for mechanical treatment and anaerobic digestion on the same site, and hopes to convert 320,000 tonnes of residual waste a year into 218GWh of electricity to power the facility itself as well as up to 60,000 homes. Waste will first pass through mechanical treatment for separation, after which biodegradable material goes to anaerobic digestion and the remaining non-recyclable waste will be incinerated in the EfW plant, with leftover incinerator ash to be used for construction.
Commenting on the development, Cllr Andrew Lee, Executive Member for Waste Management for North Yorkshire, said: "We are delighted to see this project come to fruition and for Allerton Waste Recovery Park to begin full service. The facility is a step forward in the way the county treats its waste, turning it into a resource."
Executive Member for the Environment Cllr Andrew Waller added: "We will continue to support our residents to reduce the waste we produce and recycle more, but this treatment plant is a very effective and positive way to minimise the impact of non-recyclable waste.
"During the commissioning and testing, we've seen a dramatic reduction in the amount of waste going to landfill and a benefit that some material going there is being recycled and reused. It saves money on expensive landfill taxes and even produces energy which we can sell back into the national grid."